Roll over image to zoom in
Description
This stack features a powerful F745 flight controller packed with features including a barometer, blackbox, 7 complete hardware serial ports, I2C functionality and WS2812 LEDs on each corner. The accompanying ESC is a 4in1 ESC with 20A of continuous current. This feature packed stack is sure to cover all the bases when it comes to micro long-range builds.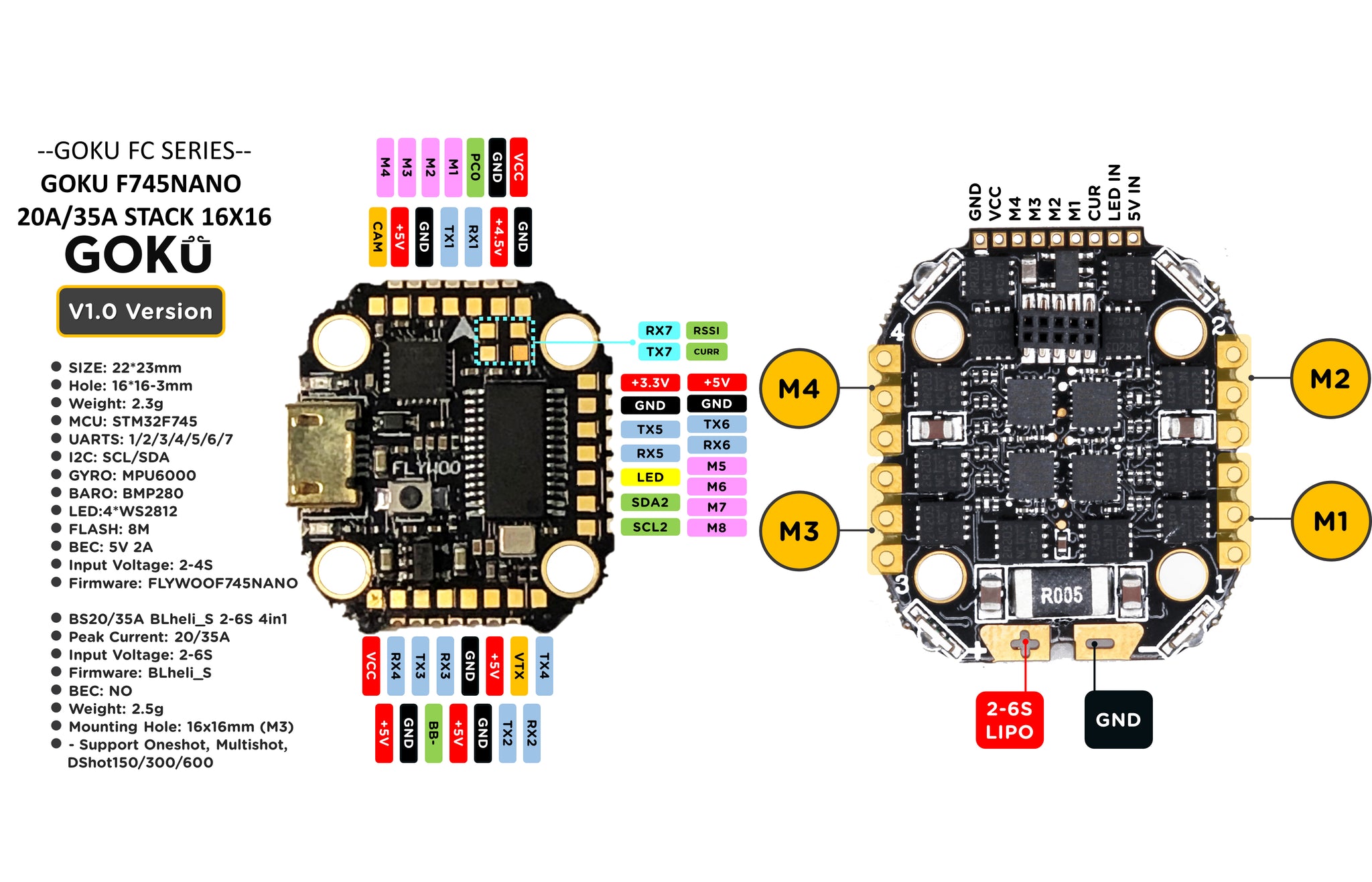 Specifications

GOKU F745 16X16 FC 
SIZE: 22*23mm Weight: 2.3g
Hole: 16*16-3mm
MCU: STM32F745
UARTS: 1/2/3/4/5/6/7
I2C: SCL/SDA
GYRO: MPU6000
BARO: BMP280 BEC: 5V 2A
LED:4*WS2812 FLASH: 8M
Input Voltage: 2-4S
Firmware: FLYWOOF745NANO
BS20A BLheli_S 2-6S 4in1

Weight: 2.5g
Mounting Hole: 16x16mm (M3)
- Support Oneshot, Multishot,  DShot150/300/600
Very good stack
FC is of very good quality. Betaflight and INAV work without any problems. It's a pity that the blackbox is only 8MB. The processor temperature reaches a relatively high temperature unless the FC is cooled by the propellers. But overall, I rate the set very positively.
Great FC for converting to DJI digital
I converted my Microlongrange 4" copter from analog to DJI HD digital. With the F7 you have enough uarts for crossfire, caddx vista and gps without hassle of softserial. I had only a problem with uart3 for connecting to Caddx Vista, but after change to uart4 the Caddx Vista works perfect. The F7 helps also with faster PID loop frequency 8Khz to fly smoother. This fc is the next level for me
Payment & Security
Your payment information is processed securely. We do not store credit card details nor have access to your credit card information.