Roll over image to zoom in
Description
FLYWOO new top GOKU series AIO are finally here! GOKU HDF745 40A FC is currently the highest level of all-in-one FC, which can meet all your FPV needs.


Use powerful F745 BGA chip and BLHELI_32 ESC firmware, integrate 5V/9V dual BEC, barometer, black box, WS2812LED, support 7 complete hardware serial ports, I2C and other functions are all open.
This is currently the most integrated and powerful FC AIO board on the market. It brings pilots a more stable and smoother flight.! Perfect for ultralight quad! It will be the most powerful FC AIO board in 2021.
HD745EVO BLHELI32 40A
Specification: 
MCU: STM32F745 32-bit processor,216MHz, 512Kbytes Flash
IMU: MPU6000 (SPI)
Barometer: BMP280
Onboard LED:WS2812*4
USB VCP Driver (all UARTs usable simultaneously; USB does not take up a UART)
7 hardware UARTS (UART1,2,3,4,5,6,7)
Supports serial receivers (SBUS, iBus, Spektrum, Crossfire) only.
PPM and PWM receivers are not supported.
Onbord 8Mbytes for Blackbox logging
9V Power Out: 1.5A max
5V Power Out: 2.0A max
3.3V Power Out: 0.5A max
Dimensions: 41x32mm
Mounting Holes: Standard 20mm square to center of holes 
Weight: 8.5g

Built-in 40A BL_32 4in1 ESC
Support BLheli / BLHELI_32
Support PWM, Oneshot125, Oneshot42, Multishot, Dshot150, Dshot300, Dshot600,Dshot1200
Input Voltage: 2-6S Lipo
Continuous Current: 40A
Firmware: BLHELI_32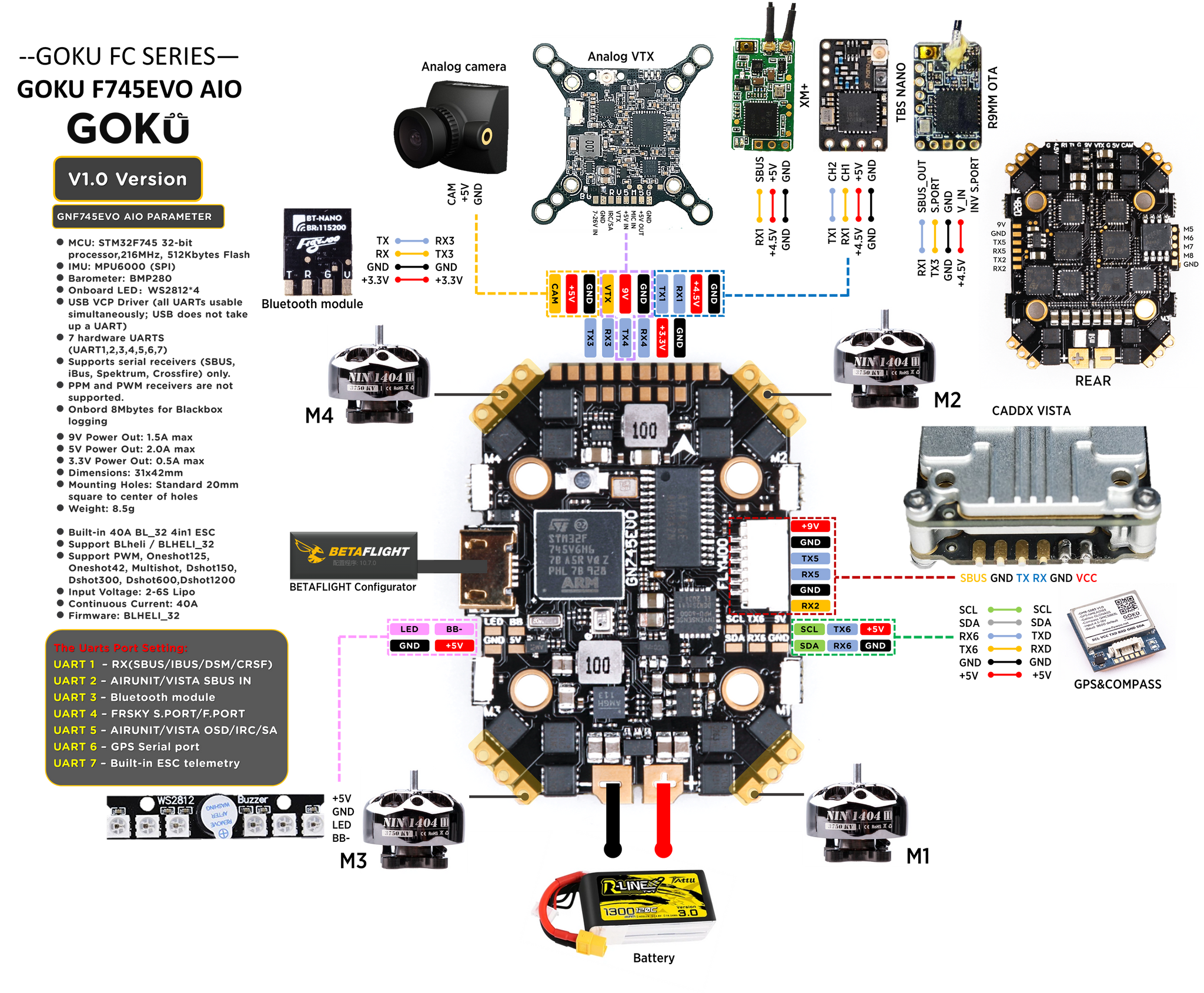 Reviews
This AIO is all that and a bag of chips!
This FC/ESC AIO has it all!!! 6S capable, 7 Uarts, DJI plug, BLheli_32, etc., and all in a 20x20 mounting! Absolutely love this product!!! Currently on 2 of my 6S 4" race quads and I haven't had any issues other than never wanting to put them away.
nice but
nice features But make sure you have a good soldering iron the led and buzzer pads are a bitch to do, as there is a led one side and the usb the other, and they are mega tiny.. also watch your heat on the tiny pads or they can lift
It could be the only one
If it had at least 1MB it could be the solution for small quad sub 250 gr with the advanced flight functions of ardupilot! Possibly with esc capable of working under 6V for 2s Liion
It's a great board but lack of 1Mb flash is a disaster for ArduPilot
I did the ArduPilot port of a couple of the flywoo boards:
https://ardupilot.org/copter/docs/common-flywoo-f745.html
The original boards had 1Mb flash and were just perfect for ArduPilot. Unfortunately the more recent boards only have 512k flash which means that ArduPilot won't run. Please, please consider re-releasing the 1Mb boards as a specific ardupilot version as these are great boards. I am sure people would be prepared to pay more.
Nice
great aio, there is everything you need👍
Payment & Security
Your payment information is processed securely. We do not store credit card details nor have access to your credit card information.