Roll over image to zoom in
Description
OVERVIEW
SkyVision HD is primarily for the HDZero VTX users who are not only interested in flying with FPV goggles but also would like to enhance the experience of FPV by watching the digital video in real-time on a monitor screen. Taking advantage of HDZero's top digital video transmission technologies, FrSky offers a quality integrated solution, a 5.5" monitor screen that can run 720p 60Hz refresh rate video with a bright backlit TFT display for meeting the diversified usages of the FPV communities outdoor.
Multiple Frequencies Switch & Anti-Interference Performance
Continuing the features of the conventional analog video transmission system, the SkyVision HD can easily switch between different models/HDZero VTX by switching the frequency on the monitor. The monitor also includes anti-interference benefits. For a scenario such as the FPV race event where multiple competitors are in the same game, the different video transmissions between multiple HD devices will not interfere with your received video signal. (Up to 8 or more devices but may vary based on the environmental conditions.)
HDMI Output with no Latency / VTX Firmware Upgrade / DVR
SkyVision HD provides a great solution for users who want to use their existing FPV Goggles (HDMI Input supported) to experience flying but do not have an HDZero video receiving module built-in, connecting to SkyVision HD's HDMI Output port, your goggles can receive HD video transmission with no latency or delay to ensure precise real-time RC control. There is also an Upgrade Port on the side of the display screen, the firmware of the HDZero VTX module can be upgraded by connecting to the port. Additionally, the built-in DVR function can record the video, and the recorded videos can be fluently playback. This can also be useful in the event of an accident, the lost model can be easily found by tracking the model in the video playback.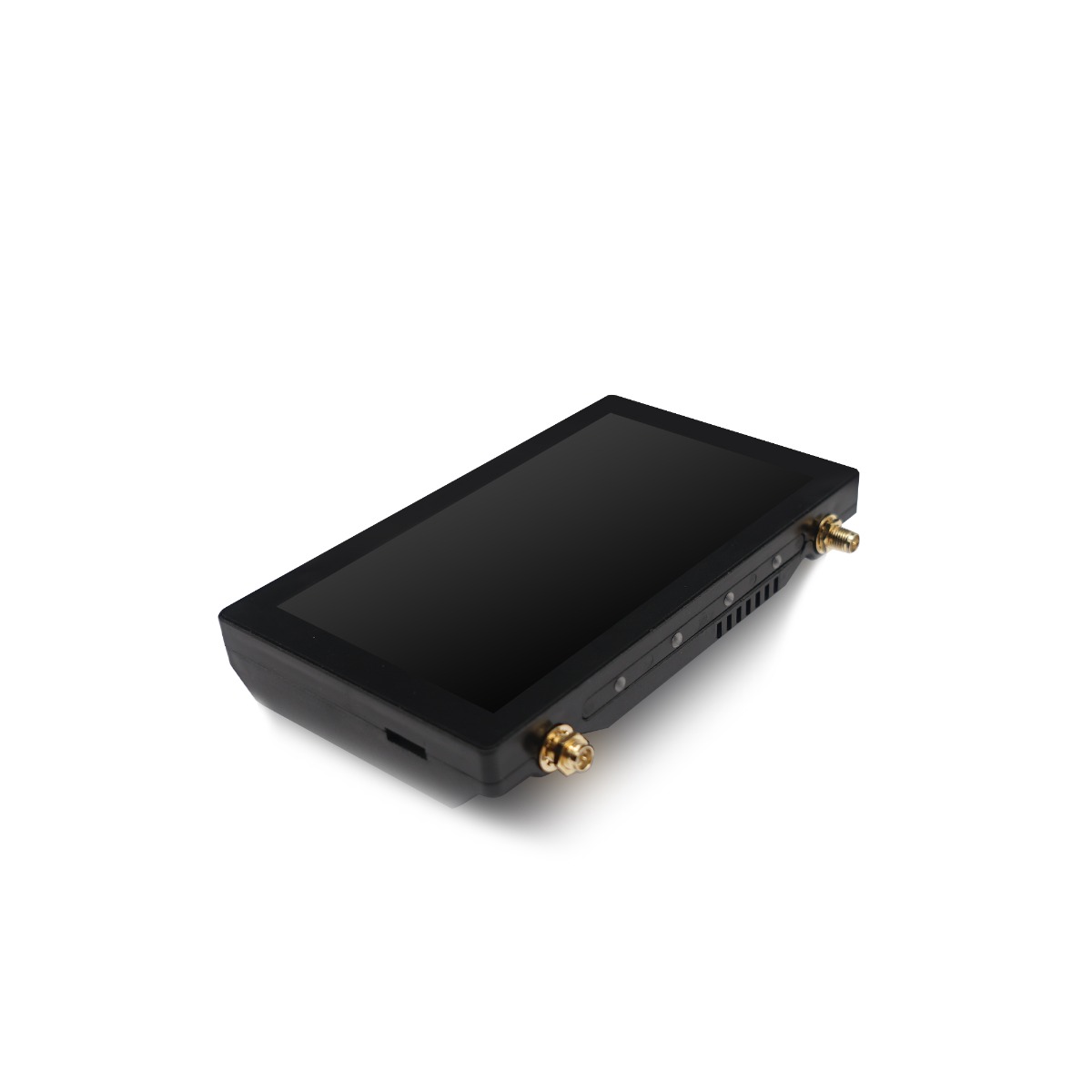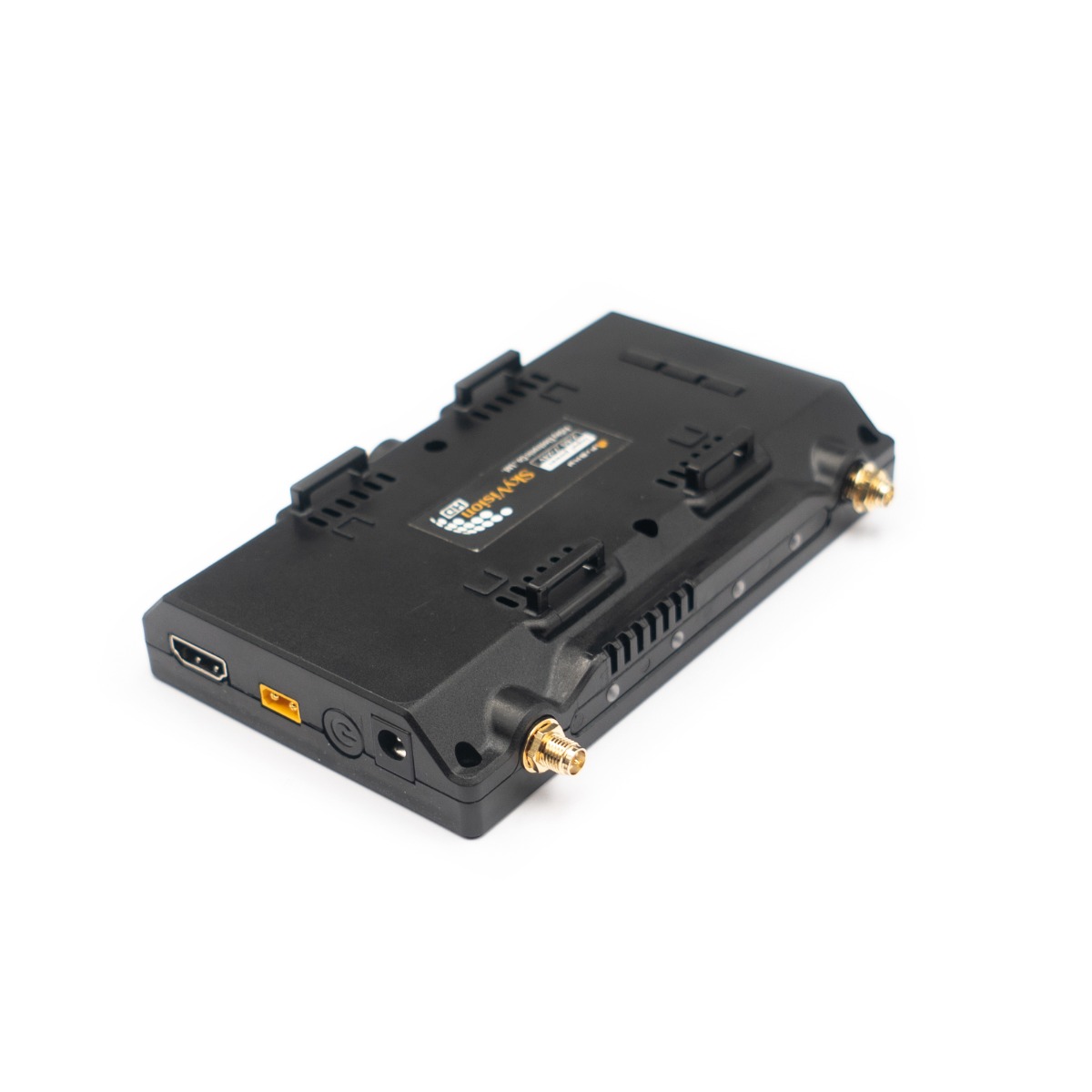 Arm Bracket / 5.8G Antennas
By mounting the attached metal arm bracket on the strap hook of the radio, the display screen can be adjusted and fixed to the desired position for achieving a comfortable viewing angle. The package also includes a 5.8G antenna kit, this circularly polarized directional antenna ensures that the monitor receives optimum video transmission signals, even in complex RF environments.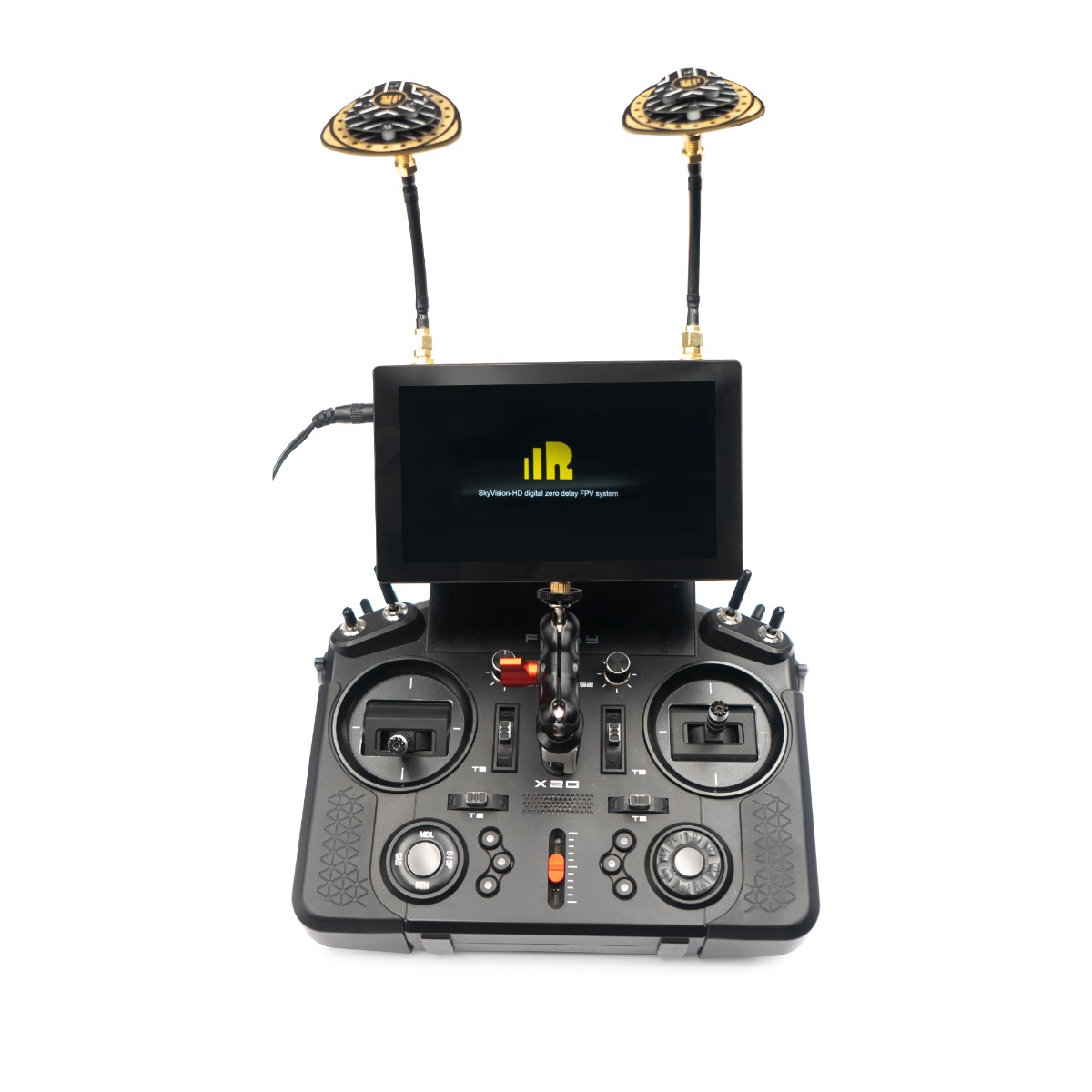 Features:
● High-bright 5.5" TFT Monitor Screen
● NIT brightness:340
● 720p Display Definition with 60Hz Refresh Rate ● High-bright 5.5" TFT Monitor Screen
● No Videos Interfere between Multiple HD Devices with each other
● HDMI Output with no latency
● Multiple Types of Power Inputs (Battery is excluded)
● Built-in DVR Function (Requires minimum 8G storage
● Fluently Playback Function
● Supports the firmware upgrading for HDZero VTX
Specification:
● Dimension: 141*83*22mm (L*W*H)
● Weight: 187.9g (Without antennas)
● 5.5 Inch TFT Monitor Screen
● DC Input Voltage Range: 7V – 26V
● XT30 Input Voltage Range: 7V-26V
● Standard HDMI OutputPort
● SD Card Slot
● VTX Upgrade Port
● Dual 5.8G Circularly Polarized Directional Antennas
● Antenna Connector: SMA
Reviews
Payment & Security
Your payment information is processed securely. We do not store credit card details nor have access to your credit card information.