Roll over image to zoom in
Description
Specificaiton:
Brand Name: FLYWOO
Model: GOKU506S
Item Name: 50A BLheli_32 2-6S 4in1 Brushless ESC 
Con. Current: 50A
Burst Current: 55A ( 10 Seconds)
Input Voltage: 2-6S
Firmware: GOKU32_PRO
Support DShot300/600/1200
LED: 4*WS2812
Current Sensor: YES 
Telemetry Function: Yes
BEC Output: NO
Size: 42×42×4mm
Mounting Hole: 30.5x30.5mm ( M3)
Weight: 10g

Package Included:
1x GOKU506S 50A 4in1 ESC
1x bag of Screw
1x bag of Anti-vibration Ball
1x Capacitor
1x Manual
 How to work leds ?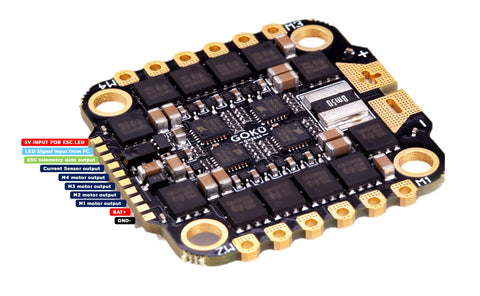 I think I spoke too soon in my previous review of this product
I bought this : FLYWOO GOKU506S 30.5x30.5mm 50A BLheli_32 2-6S 4in1
It was working OK early on, but every now and then why I plugged the battery in the quad would draw a lot of current and there would be a bit of smoke coming from about the area where the battery terminals connect to the 4in1. I could in those cases disconnect the battery and plug in again and all would be fine again. And then finally one day the motors just suddenly stopped spinning and more smoke from the same area. I tracked the fault down to the transient-voltage-suppression (TVS) diode on the 4in1 which was visibly damaged and now short circuited the battery terminals. I contacted Flywoo and they just said it could have been water or solder flicks that caused this. But I know this is definitely not the case. They also offered me a 20% discount on my next ESC purchase, but frankly I will rather stay away from this 4in1 from now on.
not well though out
its simple ive got mine the LEDs ware giving a short. Ive got a 50% on a second order.... I guess they don't believe me that the ESC was defective. But the matter is the LEDs are not integrated to the main plug connector. Witch makes no sense for the connector. You've to solder them directly to the FC in that case the connivance of the connector is useless.
I cannot recommend it. The only purpose to get it because it has an integrated LEDs witch are the most unpractical thing on the board because you've to solder them separately.
PS. Dont delete my review again
Seems to work nicely
I have not used this item for long. But first impressions are good so far.
Blew one up by connecting XT-60 backwards
I am on the page to buy a new one, because apparently XT-60 connetors can be plugged in backwards, and doing so totally destroyed my GOKU506S. No ESC music, all motor leads test positive continuity to the positive battery connector. Yeah. Lovely. No diode protection to the battery connector at all.
So whenever you plug your battery pack into your quad, you better make extra sure the square side of the male XT-60 is to square side of the female XT-60... or big spark, black soot, and no more ESC and it looks like, one serious headache soldering job to have to try to replace... esp. for me... though I can solder fairly well, I am visually impaired with no depth perception and poor vision.
Dshot Issue
They have mentioned Dshot1200 too but it didn't show up in the Betaflight...Help me. Although the ESC is awesome and has cool lights
Payment & Security
Your payment information is processed securely. We do not store credit card details nor have access to your credit card information.