Roll over image to zoom in
Description
Specificaiton:
Brand Name: FLYWOO
Model: GOKU506S
Item Name: 50A BLheli_32 2-6S 4in1 Brushless ESC 
Con. Current: 50A
Burst Current: 55A ( 10 Seconds)
Input Voltage: 2-6S
Firmware: GOKU32_PRO
Support DShot300/600/1200
LED: 4*WS2812
Current Sensor: YES 
Telemetry Function: Yes
BEC Output: NO
Size: 42×42×4mm
Mounting Hole: 30.5x30.5mm ( M3)
Weight: 10g

Package Included:
1x GOKU506S 50A 4in1 ESC
1x bag of Screw
1x bag of Anti-vibration Ball
1x Capacitor
1x Manual
 How to work leds ?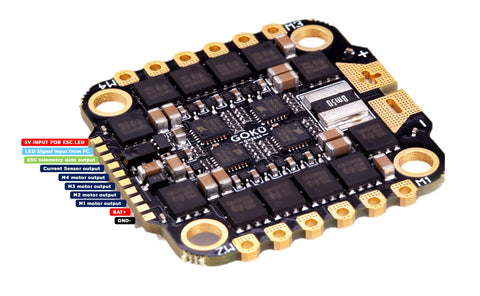 Seems to work nicely
I have not used this item for long. But first impressions are good so far.
Blew one up by connecting XT-60 backwards
I am on the page to buy a new one, because apparently XT-60 connetors can be plugged in backwards, and doing so totally destroyed my GOKU506S. No ESC music, all motor leads test positive continuity to the positive battery connector. Yeah. Lovely. No diode protection to the battery connector at all.
So whenever you plug your battery pack into your quad, you better make extra sure the square side of the male XT-60 is to square side of the female XT-60... or big spark, black soot, and no more ESC and it looks like, one serious headache soldering job to have to try to replace... esp. for me... though I can solder fairly well, I am visually impaired with no depth perception and poor vision.
Dshot Issue
They have mentioned Dshot1200 too but it didn't show up in the Betaflight...Help me. Although the ESC is awesome and has cool lights
I want more of Flywoo.
Awesome product. I have never had failure of problem with ECU
Pin out diagram missing
No pin out diagram, 8 pins and 10 pads, cant determine which pin goes were except positive and negative.
Payment & Security
Your payment information is processed securely. We do not store credit card details nor have access to your credit card information.