Roll over image to zoom in
Description
GOKU F411 FC: 
Model: GOKU F411 FC
MCU: STM32F411
IMU: MPU6000 gyro/accelerometer (SPI)
OSD: BetaFlight OSD w/ AT7456E chip
Baro: no
black box: 8M
LED:8*WS2812
BEC Output: 5V@2A
Integrated LC Filter
Firmware target: FLYWOOF411
Size: 24×24mm board,16mm mounting holes (M3)
Weight: 2.6g
GOKU BS13A ESC:
Model: GOKU BS13A ESC
ESC MCU: BB21F16G
Continuous current: 13A
Input:2-4s lipo
Supports Dshot600 ,Oneshot,Multishot
Size: 24×24mm board,16mm mounting holes (M3)
Weight: 2.6g

GOKU VTX625
Output Power: PIT/25mW/50mW/100mW/200mW/450mW Switchable
Control Mode: BFOSD Control(RX)/Button
BAT: 5V
LED: 4*WS2812LED
Video System: NTSC/PAL
Antenna: IPEX
Size: 31MM*31MM
hole: 16*16mm/20*20mm/25.5*25.5mm
Weight: 3g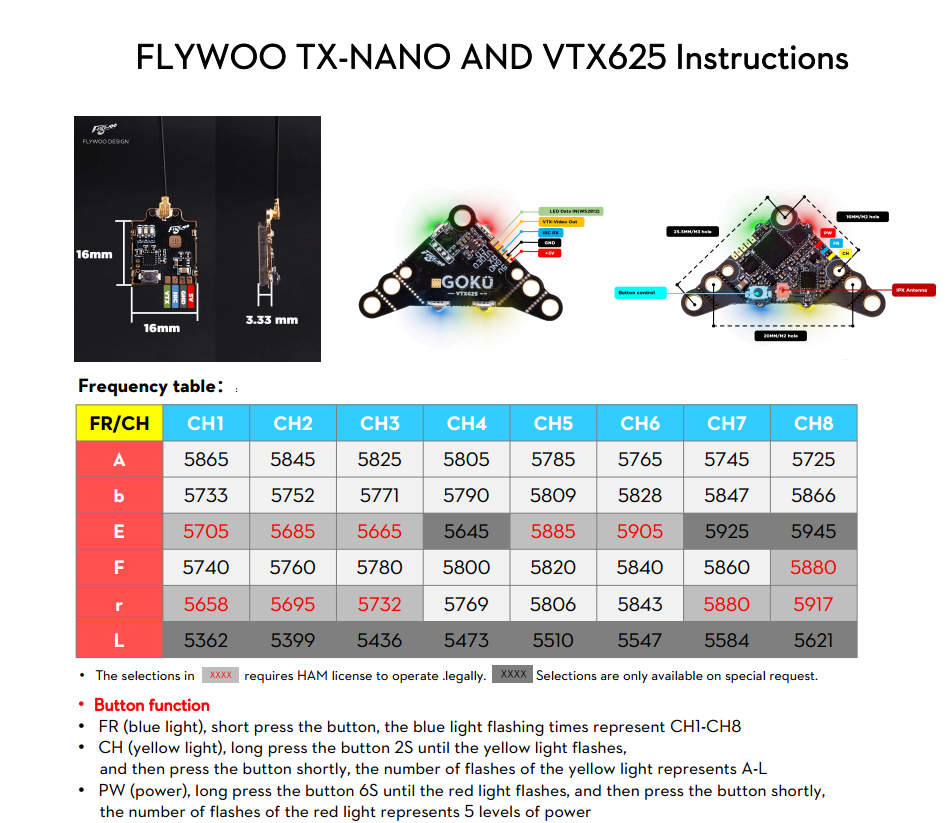 Good solid product
aspects I liked:
- includes 25V 200µF capacitor and all other bits and pieces
- integrated LEDs on the FC and VTX boards
aspects that could be better:
- lack of hardcopy wiring diagrams / manuals, had to find info online
- needed to reflash latest betaflight to get rpm filters to work (came with betaflight 4.1.0 which should support rpm filters but didn't)
New favorite!
Easy to solder, powerful VTX, easy to download VTX table, happy and helpful support, programmable leds! This thing had it all.
Great customer service
Stack came pretty late because of covid but works awesome and communication during that time has been great with Flywoo
Still haven't received it so idk
I'll change it when it finally comes in
Hi Due to the closure of Singapore, your package has been stranded in Singapore for some time. Fortunately, it is now on the way! You will receive it soon!
Payment & Security
Your payment information is processed securely. We do not store credit card details nor have access to your credit card information.