Roll over image to zoom in
Description
Specificaiton:
Brand Name: FLYWOO
Model: GOKU506S
Item Name: 50A BLheli_32 2-6S 4in1 Brushless ESC 
Con. Current: 50A
Burst Current: 55A ( 10 Seconds)
Input Voltage: 2-6S
Firmware: GOKU32_PRO
Support DShot300/600/1200
LED: 4*WS2812
Current Sensor: YES 
Telemetry Function: Yes
BEC Output: NO
Size: 42×42×4mm
Mounting Hole: 30.5x30.5mm ( M3)
Weight: 10g

Package Included:
1x GOKU506S 50A 4in1 ESC
1x bag of Screw
1x bag of Anti-vibration Ball
1x Capacitor
1x Manual
 How to work leds ?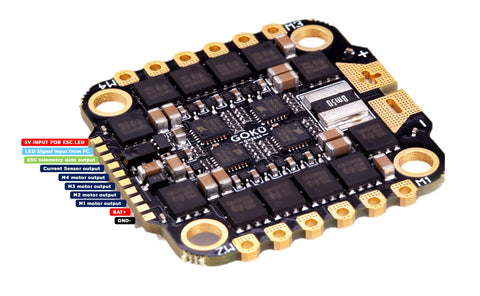 Pin out diagram missing
No pin out diagram, 8 pins and 10 pads, cant determine which pin goes were except positive and negative.
parfait
juste nikel, en plus il encaisse bien les chocs violent! 🤙
Port wiring diagram?
The esc includes a sheet with labeling of pads to solder into but no diagram of what pin is what on the port? Am I suppose to assume it follows the same layout?
4 in 1 esc
Have not installed yet. Waiting for other components. It is a beautiful looking esc. Very rich looking. Can't wait to fly it.
Payment & Security
Your payment information is processed securely. We do not store credit card details nor have access to your credit card information.