Wide Receiving Frequency Range: The FLYWOO1.2/1.3GHz Dual VRX Video Receiver has a receiving frequency range of 9CH, covering a wide range from 1080MHz to 1360MHz.
Dual Antenna Design: With two Y-shaped 1.2G antennas, the Flywoo receiver module ensures stable and reliable signal reception for an uninterrupted FPV experience.
Notch Filter Included: The FLYWOO 1.2GHz VRX Notch Filter (868/915 MHz) included in the box helps eliminate interference from other devices operating at similar frequencies, ensuring a clear video feed.
Specifications
Receiving Frequency: 9CH (1080MHz to 1360MHz)

RX Sensitivity: -95dBm

Dual Input : 5V/2.54 9 PIN socket, compatible with FATSHARK/SKYZONE FPV Goggles

Button Control : Lock and Select Frequency

Channel LED: 9CH LED

RSSI LEDs: RSSI0/RSSI1

Current Consumption: 0.4A @5V

Video Format: NTSC or PAL

Video Output Impedance: 75Ω, Typ.

Audio Subcarrier Frequency: 6.5MHz & 6.0MHz

ANT. Input Impedance: 50Ω, Typ.

RF Connector: SMA

Size: Board
Product User Guide
Press and hold the LOCK button for 3 seconds to unlock the channel. The UNLOCK LED will light up and the buzzer will sound once.
Press the CHANNEL button to select the frequency. The LED will light up and the buzzer will sound once.
The RSSI0/RSSI1 LEDs respectively display the signal strength of the two receiver modules.
The new frequency will be saved if no button action is taken within 3 seconds.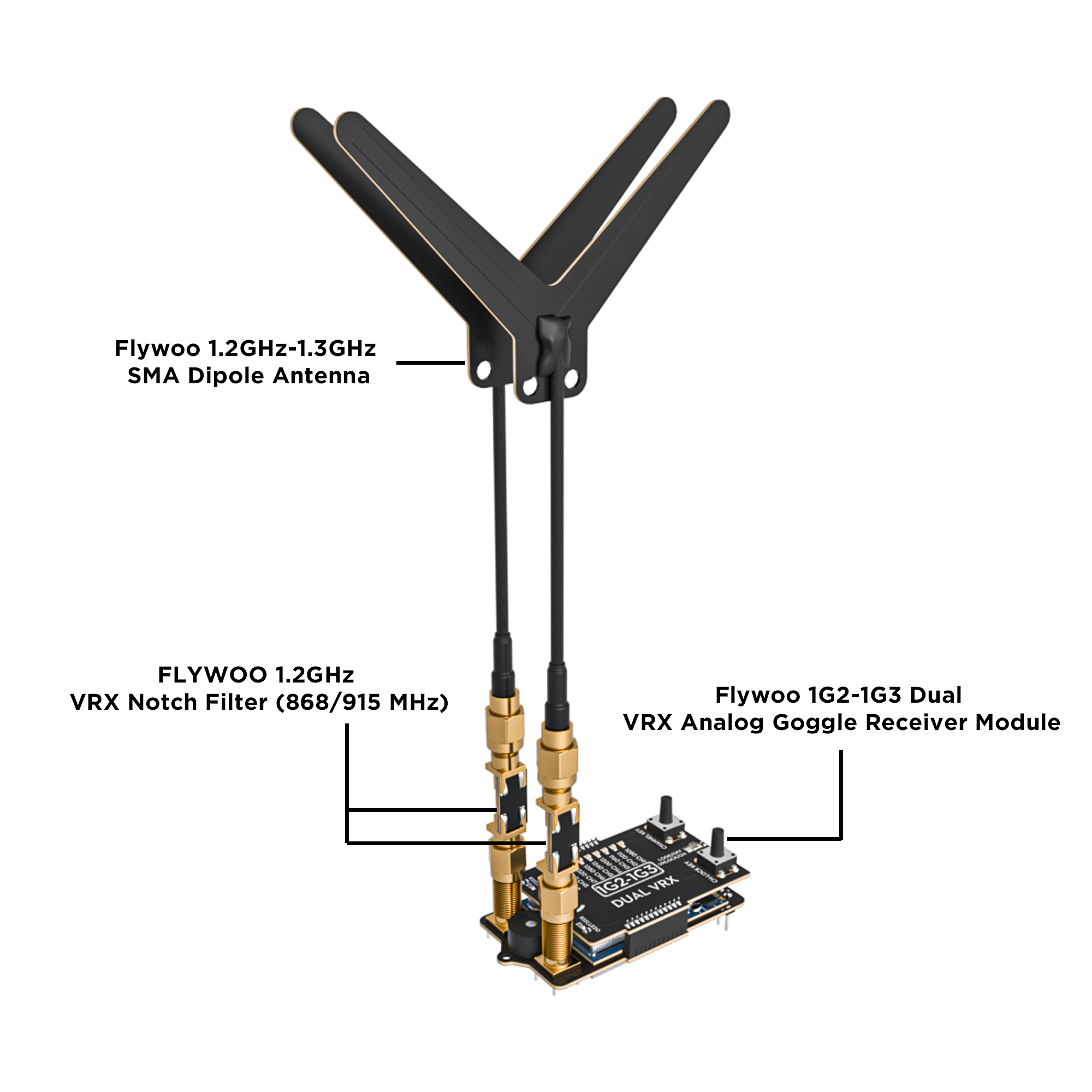 In the Box
1 x Flywoo 1G2-1G3 Dual VRX Analog Goggle Receiver Module

2 x Flywoo 1.2GHz-1.3GHz SMA Dipole Antenna (2pc) - Linear

2 x FLYWOO 1.2GHz VRX Notch Filter (868/915 MHz)