Warning:
1\ Since Venom H20 is very fast, please make sure to install the propeller screws
2\ When you install the propeller guard, please pay attention to the screw size.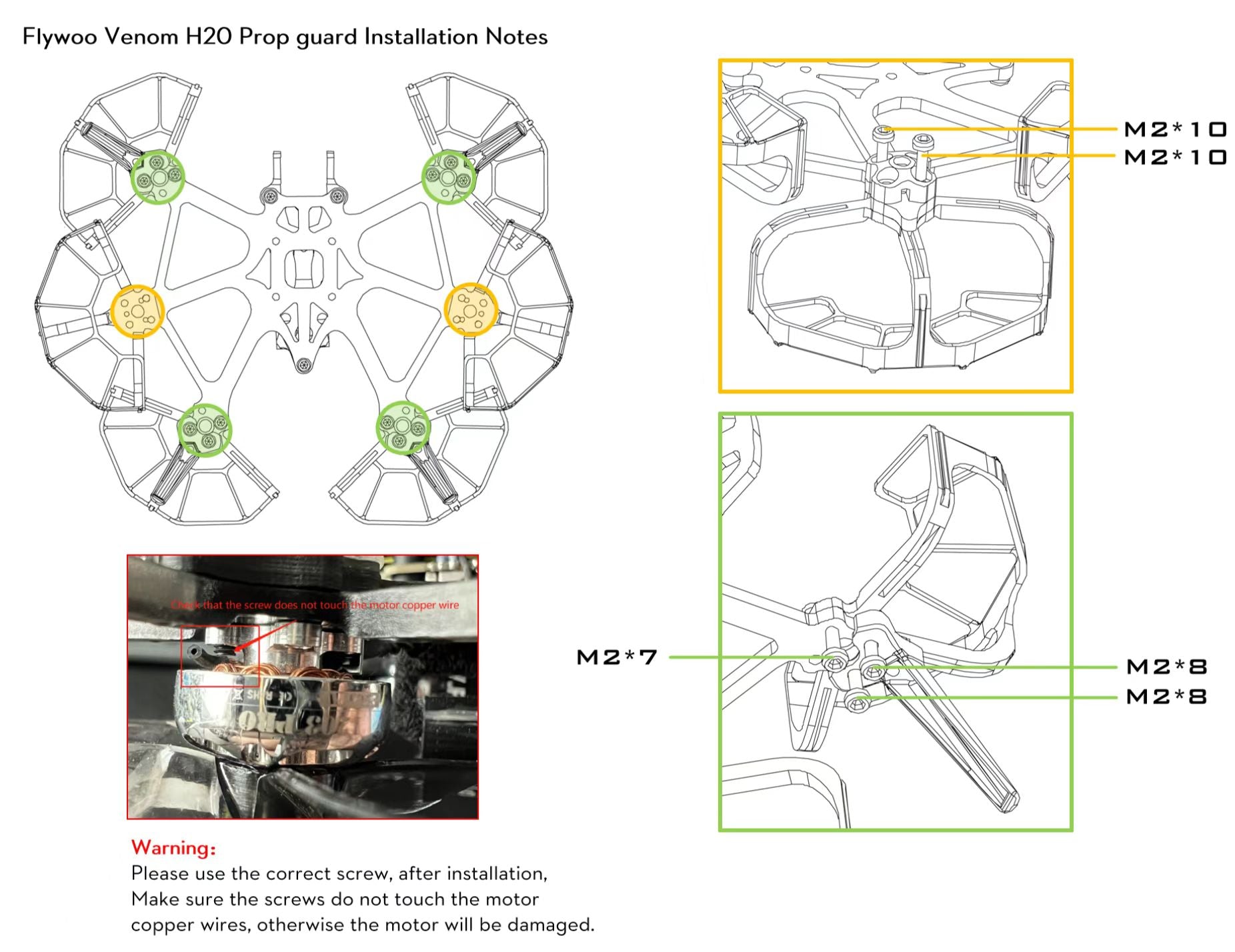 Flywoo has always strived to push the boundaries of carrying a camera on the smallest platform. We designed the Firefly Baby quad and Firefly Hex nano. Now we are proud to announce that Venom H20 is here! This design is inspired by XMFPV!
The Venom H20 will push the boundaries again, and at the same time will be the fastest 2-inch drone!
Highlights:
2 inch mini drones, but most powerful. Can carry Gopro 10 bones and DJI Action 2
The fastest 2-inch drone, with a speed of 120km/h~140km/h
Built-in Flywoo Action Camera power cord, and adapt to a variety of action cameras
Efficient power configuration enables Venom H20 to fly stably, with low noise, and with a long flight time of up to 8.40 minutes.
The lightweight 2-inch quad below 250g even if you connect with the battery, meet the current requested of FAA rules.
The Avatar HD Nano Camera / VTX Kit features a nano-sized digital camera and VTX that works with HD Goggles such as the Avatar and Fat Shark HD Dominator. More information coming soon!
Specifications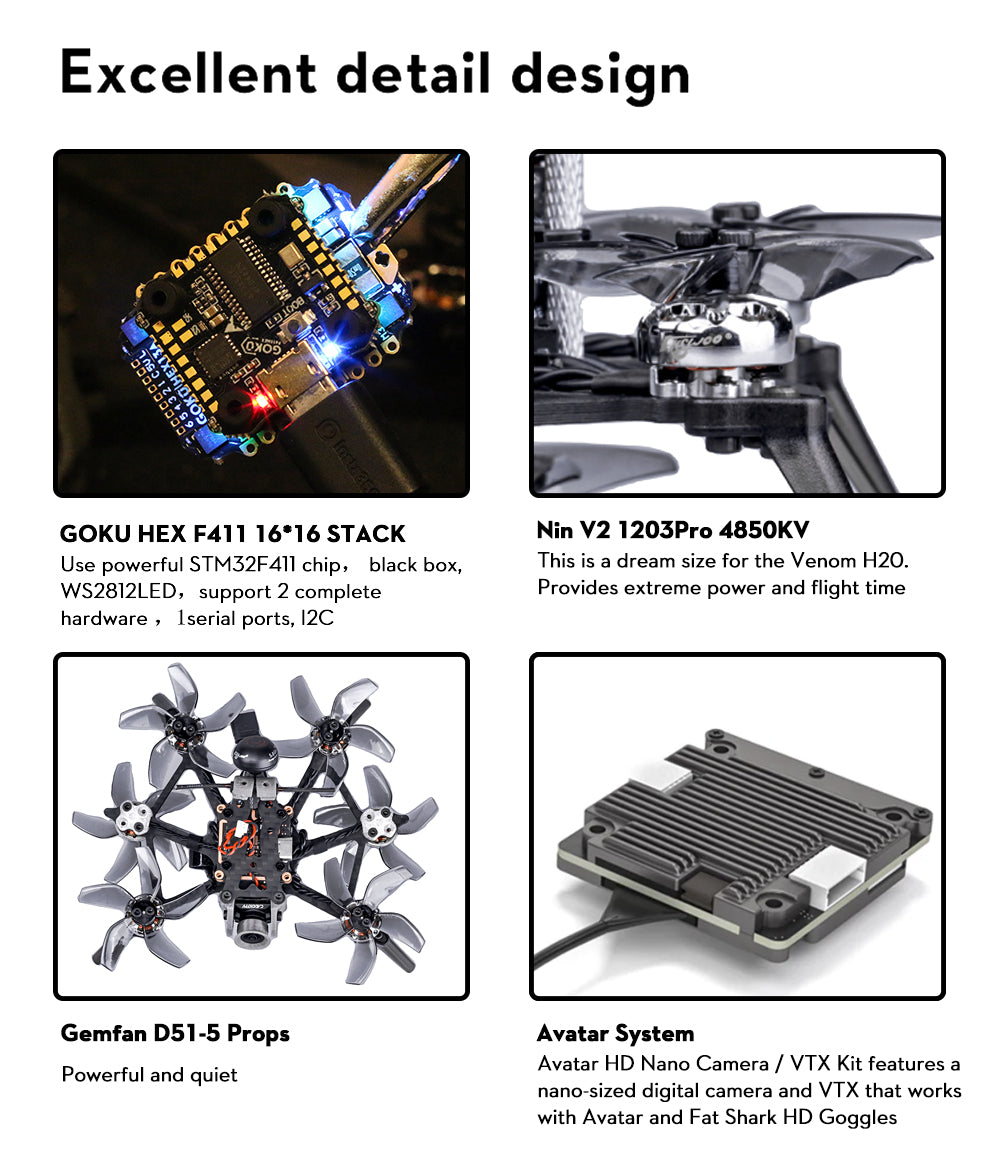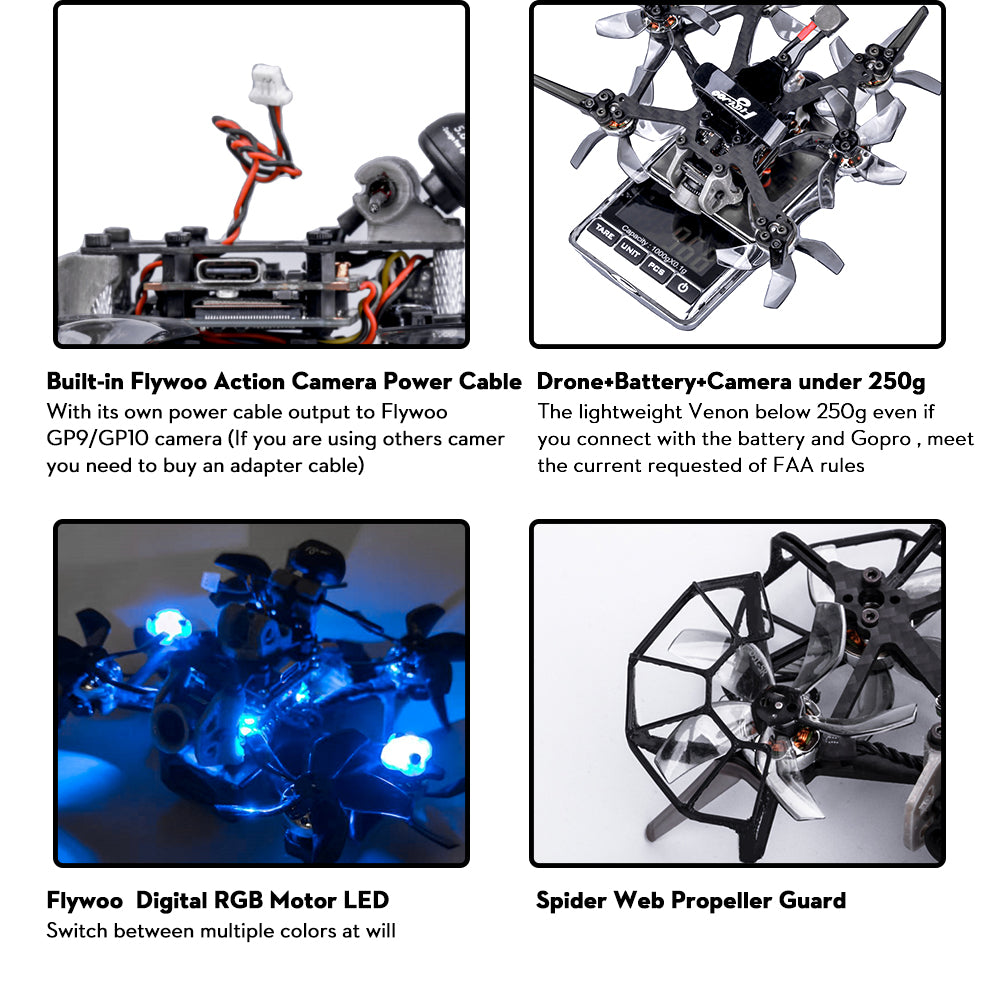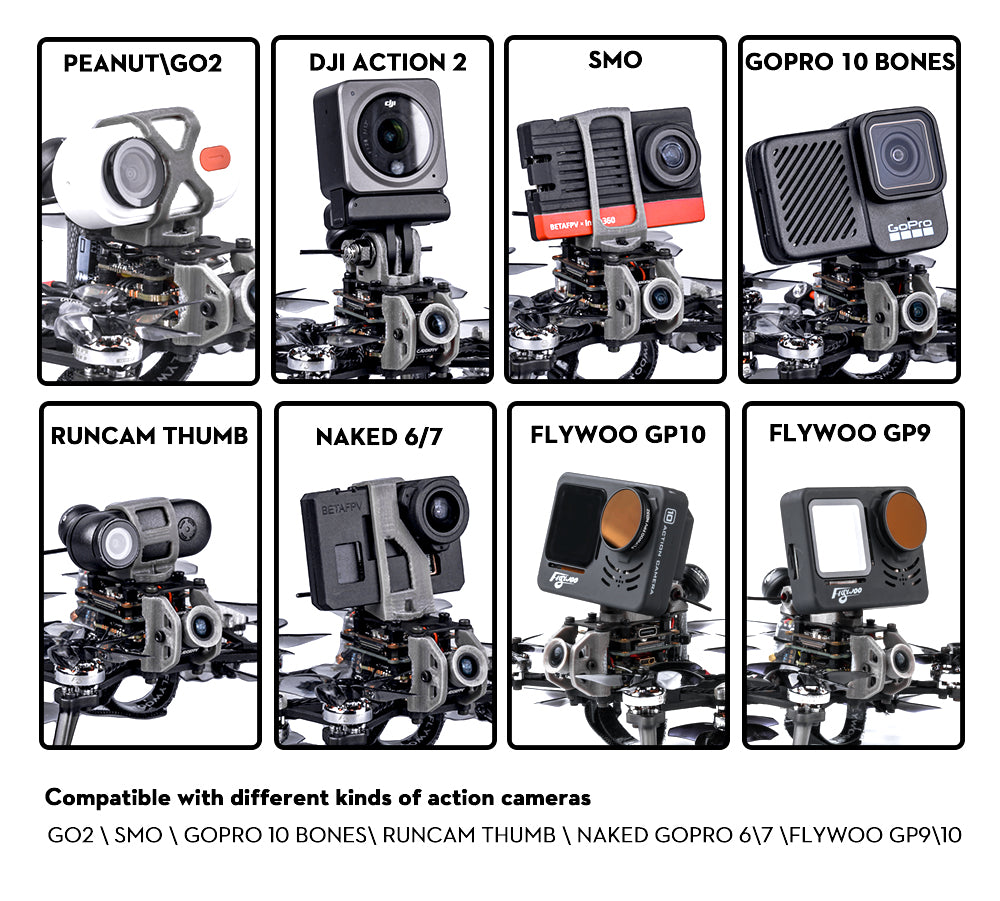 Include:
1x

 

Prebuilt and tested Venom H20 Hexacopter 

4x D51-5 Props (Pairs)
2x Battery Strap
1x Hardware Set
6 x spider web prop guard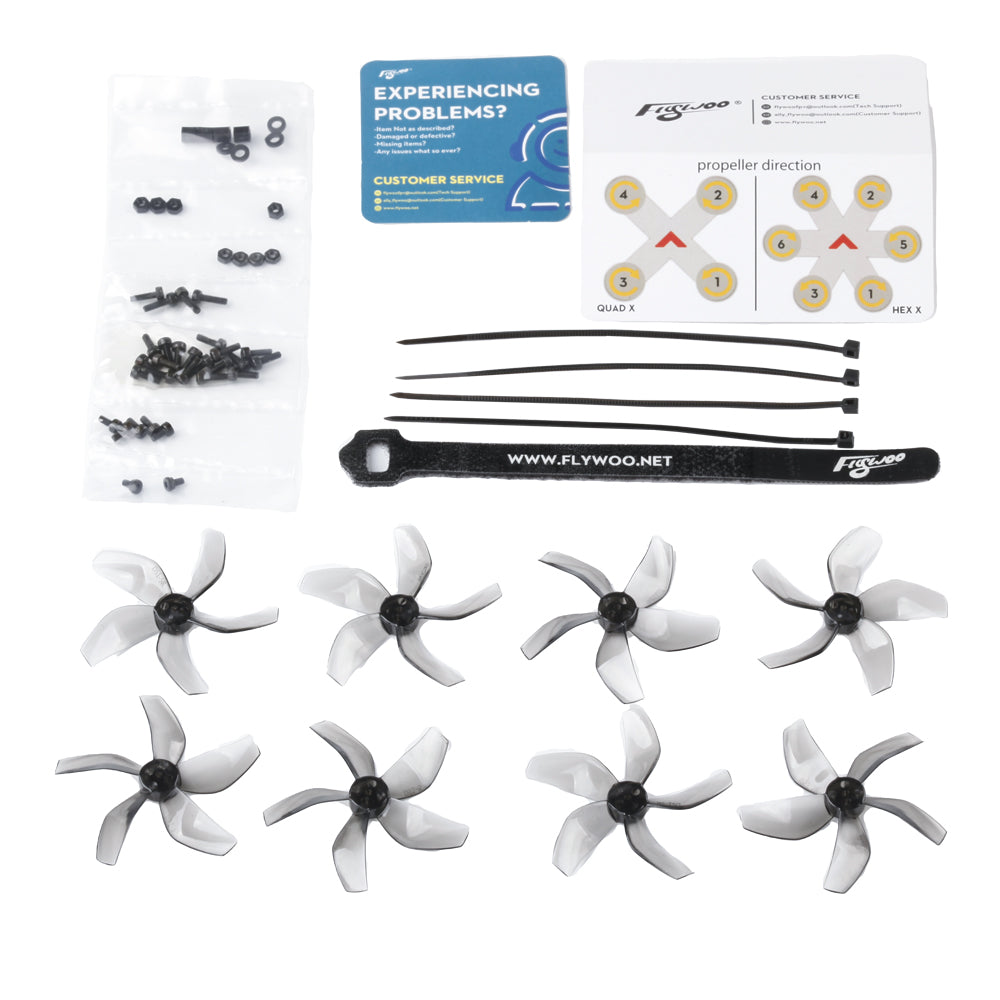 Video
Blog
Here is the Venom H20 DJI HD review, just for reference
What's included:
1x Prebuilt Venom H20 Hexacopter
8x D51-5 Props
2x Battery Strap
1x Hardware Set
6 x spider web prop guard
Specs and Features
It's a tiny 2″ hexacopter (6 motors) with a special motor arrangement to minimize its size
More than powerful to carry a Naked GoPro camera and other popular HD action cameras, and still feels punchy
Available for both DJI FPV system and later,

 

Walksnail Avatar FPV system (a.k.a Fatshark Dominator HD)
There will be optional prop guards, so effectively it can be used as a cinewhoop for indoor
It designed to support many different HD action camera in mind
It looks like a mini version of a "cinelift".
Specifications:
Frame: Venom DJI HD Frame kit
Motor: Nin V2 1203 Pro 4850KV
Propellers: Gemfan D51-5 5-blade
Receiver: ExpressLRS 2.4GHz (other receiver options available)
VTX: Caddx Vista
FPV Camera: Caddx Polar Nano
LiPo Voltage: 4S
Weight (w/o battery and gopro): 100g
Weight (with 4S 450mAh, w/o gopro): 157g
Weight (with 4S 450mAh and GoPo10 Bones): 211g
Closer Look
The Flywoo Venom is similar size to a 2.5″ cinewhoop, but actually more powerful.
It uses the Caddx Vista VTX with its heatsink removed. Not a great idea for cooling, but it reduces the weight by almost 10 grams which is significant for an aircraft this size. This mod is called "Naked Vista", I talk more about the pro's and con's in this post. Cool thing is that Flywoo have already activated and upgraded the Vista to the latest version for you in order to minimize the risk of damaging the VTX when you are doing it yourself without proper cooling.
With that said, I still recommend getting the prop guards when purchasing this hex, it will make flying indoor and in tight spaces much safer. Unfortunately they weren't available when I was testing this drone so I couldn't show it here.
The landing gears have about 20mm clearance for the battery, so when you are selecting battery, make sure the battery height is lower than 20mm.
The FC has bright built-in RGB LED, and they also installed two RGB LED on the bottom of the two middle motors too. They light up as soon as you power on the drone.
A power cable for the Naked GoPro is installed out of the box. It connects to the LiPo battery pads, and the connector works on the Hero10 Bones. The connection isn't as tight as the original connector, but it seems to stay in place just fine even after a few crashes. This connector does not work on other Naked GoPro BEC boards, such as the BetaFPV Hero6, Nameless Hero9 and GEPRC Hero8. If you want to use these cameras you will have to solder your own power cable.
How to Setup
To bind receiver, connect and disconnect battery quickly two times, the 3rd time you connect the battery the receiver will be in bind mode (I didn't bother to flash the RX firmware to set the bind phrase). Then enter bind mode on the radio by going to the ExpressLRS LUA script.
To bind the Vista to your DJI FPV Goggles, simply following these instructions. The Vista is already upgraded to the latest firmware version (1.0606), and it's in CE mode (3 channels and 25mW max). If you want to enable FCC mode (8 channels and 700mW max), follow these instructions.
The FC comes with Betaflight 4.2.8 version. Board target is FLWO/FLYWOOF745HEX(STM32F745). Original CLI dump can be found here.
Not much you need to change for the first flight, here are what I did:
assign switches to arm / horizon mode / beeper
rearrange OSD elements
change rates
enable DShot beacon (for beeper)
That's it.
Flight Performance
The claimed flight time by Flywoo with a 4S 450mAh LiPo is about 6:30 minutes, while with a 4S 750mAh it's about 8:40.  I didn't get that long flight time. I was only getting about 3:30 – 4:00 on a 4S 450mAh, and only 3:00 when carrying the GoPro 10 Bones, and I got 5 minutes on a 4S 650mah. Maybe I was flying way too fast :)
PID tune / filtering still need a bit more work, the hex has some small wobbles even when there's little wind.
Carrying GoPro
When carrying the GoPro 10 Bones, it feels pretty much like flying a cinewhoop. It's quite stable, It flies on rail indoor or outdoor when it's calm. But it can get pushed around by the wind probably because the GoPro is as big as the drone itself, and it almost doubles the surface area.
Because it's using a naked Vista, I only set output power to 200mW to avoid overheating. I get about 400m-500m range before the signal bars become red (I was pointing the patch antenna at it). I could probably go a lot further as the bitrate didn't really start to drop, but I really didn't want to push my luck and range limit, just in case I crash and the VTX overheat and gets damaged sitting on the ground for minutes while I walk over to pick it up.
It's noticeably quieter than a 2.5″ cinewhoop, such as the BetaFPV 95X when flying in similar speed. With the prop guard I think it makes a great indoor filming platform as it has more power and agility while being similar size to a 2.5″ cinewhoop.
Without HD camera
Without carrying the weight of an HD camera, the Flywoo Venom has a ton of punch! You can fly it pretty much like a 5″ freestyle drone and do all the acro tricks, but there's some prop wash when you do sharp turns and recovering from a fall. Not sure if it has to do with the tune, or caused by the air disturbance between the overlapping propellers. Anyway, it handles windy condition much better than when carrying a GoPro for sure.