Roll over image to zoom in
Description
lFrequency: 5.8GHz 6 bands 48 channels
Raceband: 5362-5945 MHZ
Power: PIT/25/50/100/200/450mW switchable
Control Mode:IRC(RX)/Button
BAT: +5V Input
Video System: NTSC/PAL
Antenna: IPX
Size: 30mm×30mm×4mm
Weight: 1.3g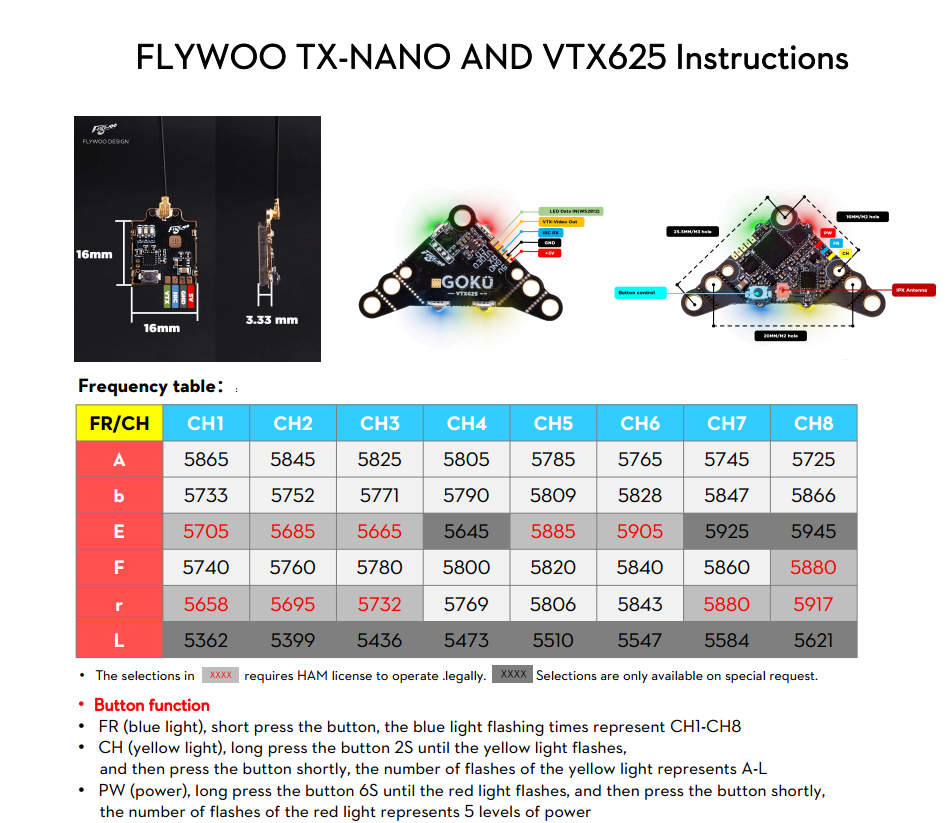 Perfect fit
Fast service great support. VTX is working perfectly.
VTX625 sits neatly atop any stack
Nice small footprint VTX, fits on any three bolts of any 4-post 16, 20, or 30.5mm mount. My board has 4 solder pads on the bottom edge, rather than 5 as in to photo.
The pad for WS2812 LED signal input to support the four bottom-mounted LEDs on this tiny board is — tiny: only 0.5mm across. (It's near the 3mm mounting hole on the bottom, and is labelled clearly.)
Bench verification shows a strong, clear signal.
I bought several; the first is atop a Flywoo F745Nano stack in a GEPRC Phantom; works well, but I haven't pushed range yet.
The LEDs are a delightful plus; their arrangement seems most logical for a Whoop-type board, or the '+' configuration for a regular FCU.
Recommended.
GOKU VTX625 - Very Good
I am very satisfied with the GOKU VTX625 450 mW video transmitter.
Great So Far
Ordered a few of these and have used two so far. Good range, stable clean video. Love the lights and the size versatility. Good sized solder pads. Easy to incorporate in just about any build.
Vtx625
Very happy with my purchase. I believe the goku vtx625 is better then the original vtx they used. I give it 5 stars
Payment & Security
Your payment information is processed securely. We do not store credit card details nor have access to your credit card information.