Roll over image to zoom in
Description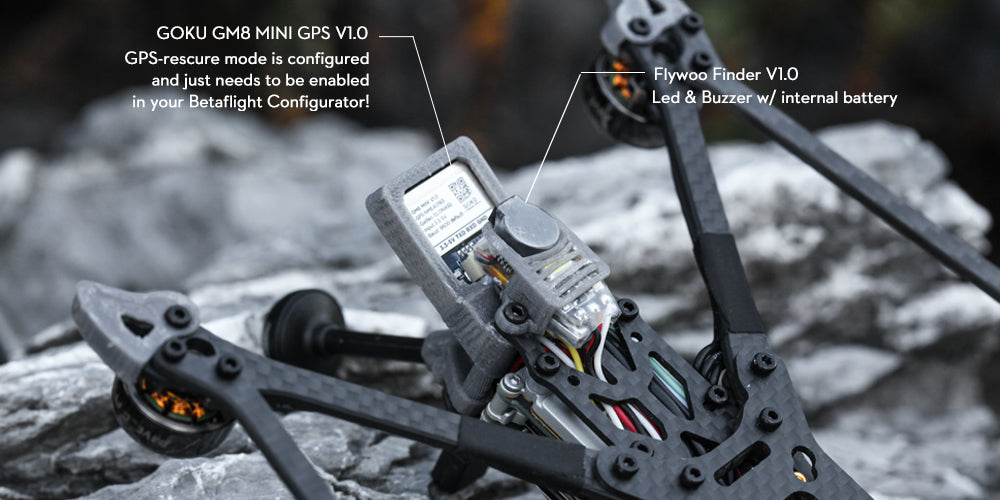 FLYWOO Finder V1.0 BB Ring 100dB Buzzer Alarm with LED Light Support BF CF Flight Control Parts for RC Micro Drone Quad

The buzzer has two modes of operation:
1. It is compatible with the functions of the traditional active buzzer and synchronized with the flight control.
2. When the flight control is normally connected, if the main battery in the flight is powered off, it can still automatically emit 100 dB of drip sound after 30 seconds of power failure, and the LED will emit white light.

To turn off the buzzer: Press and hold the release button for more than 2 seconds, the Finder V1.0 turns off the sound.

The Finder is compatible with all BF and CF flight controls. Just connect to the buzzer interface of the flight controller and it will work. When the flight control wiring is correct, the multi-rotor aircraft is powered on, and the flight control power supply will be automatically charged for the Finder (the red LED will light to indicate charging is in progress, the red light is off to indicate charging saturation; the red light flashing indicates flight control) Electricity, enter 30 seconds waiting time).

Size: 21*11*9.5MM
Weight: 2.7 grams

Package include:
1 X Finder V1.0 (10cm cable)
Glitched after software update
Alarm beeper got stuck ON single continuous note. Couldn't disable with button, had to remove, desolder and literally destroy the finder to stop the sound.
Just not right
Ya mine did to led works buzzer doesn't ....any help here ally
Useful but fragile
The one that came with my Explorer LR4 died after a hard landing since its mounted at the bottom.
Should be fine if mounted inside a frame where its protected.
FlyWoo Buzzer
Great, light and reliable.
Payment & Security
Your payment information is processed securely. We do not store credit card details nor have access to your credit card information.