Equipped with the latest version of walksnail 1S VTX (smaller and lighter)




"In my opinion Flywoo makes some of the very best micro quads in the world. The Flywoo Nano Baby 20 is another fantastic example of their attention to detail."
- Chris Rosser

Firefly Nano baby 20  is the smallest and lightest whoop drone with avatar digital VTX in the world. Equipped with the most efficient micro motor and the top AIO flight control on the market. It will bring you an unprecedented flying experience.  The drone could do all the acrobatic motions smoothly, like dive and power loop
Firefly Nano baby 20 could support the Walksnail Avatar and Fat Shark HD Dominator.
. Pilots can now enjoy both superb image quality and a minimum latency within 22 ms.
 The video is recorded withWalksnail Avatar and Fat Shark HD Dominator. in 1080P@60fps.
Highlights:
1002 15500KV and Gemfan 2015 - 2 blade with perfect thrust-to-weight ratio on 2inch. provide a best balance of performance and flight time.
GOKU Versatile F405 2S 12A AIO is another versatile and highly integrated circuit board ! Built-in build-in ELRS 2.4g RX. Have multiple sets of serial external devices
Easily swith battery mount design .  Explorer 2S 420mAh for Racing , Explorer 2S 750mAh for long flight time. 
Great mount compatibility.Swith easily. Thumb Pro \ Peanut \ GO2 \ Thumb
Specifications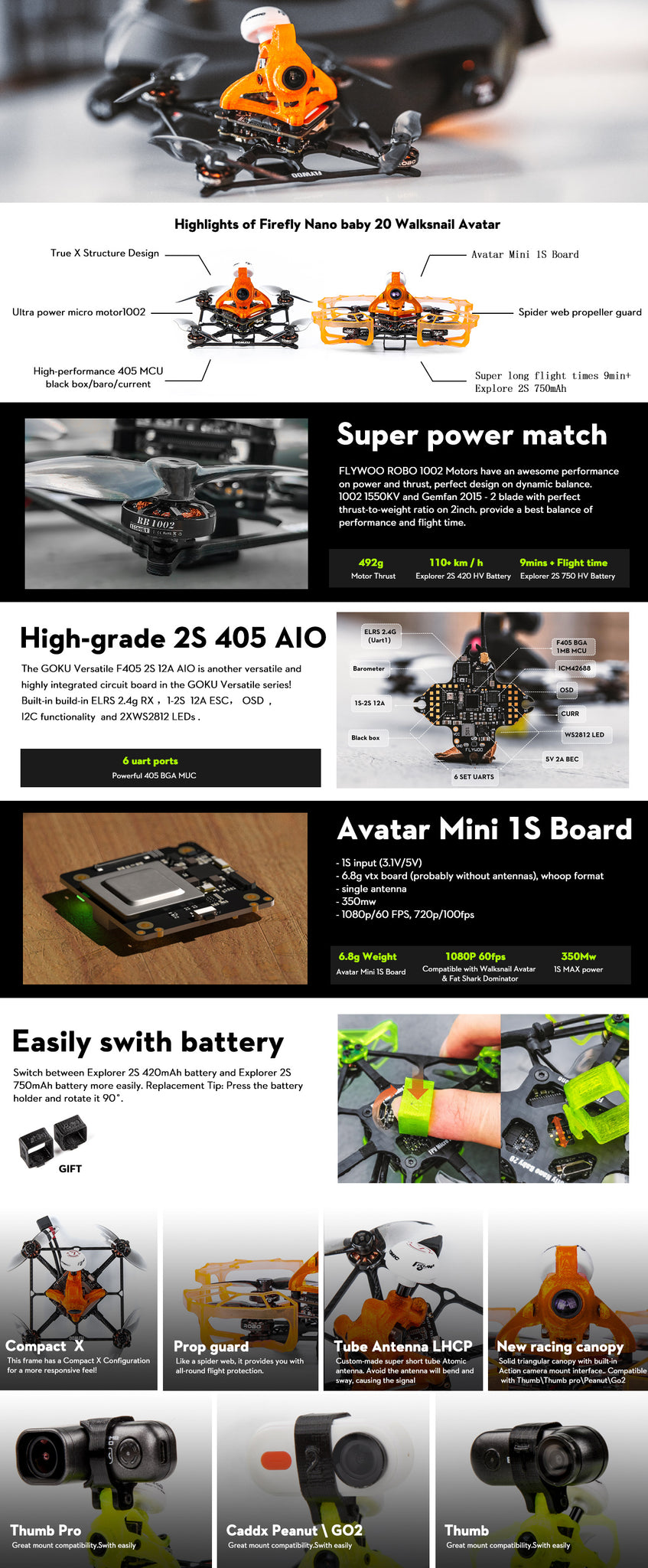 In the BOX
1 x Firefly 2S Nano Baby 20 Walksnail Avatar Micro Drone

2 x set of  2015-2 props
1X Screw spare packs
2x battery holder
4x Prop guards