Video output suggestions:
Aspect Ratio: 16:9
Video Quality: 4K/60
Camera FOV: Wide
ELS: OFF/USE Gyroflow
*Please note that this is the version without O3 air unit.


The DJI O3 Air unit is an exceptional digital module that perfectly complements the Explorer LR 4. With its impressive 4K/60fps recording capabilities and long-range capabilities of up to 10KM (FCC), this unit is sure to impress even the most discerning aerial photographers and videographers.
To make things even better, we have designed the latest GOKU MINI GPS V3 for use with the Explorer O3, which now supports searching for up to 30 satellites. With this cutting-edge technology, the Explorer LR 4 has everything you need to capture stunning aerial footage with ease.
This is a special edition. If you own an O3 Air unit, you can easily put it into the Explorer LR 4 O3 version.
⭕Long-range capabilities up to 10KM (FCC)
⭕4K/60fps recording for high-quality footage
⭕Latest GOKU MINI GPS V3 for greater accuracy
⭕Compact and lightweight design, weighing less than 250g even with the battery
⭕Long flight time of up to 30 minutes
⭕User-friendly controls for easy operation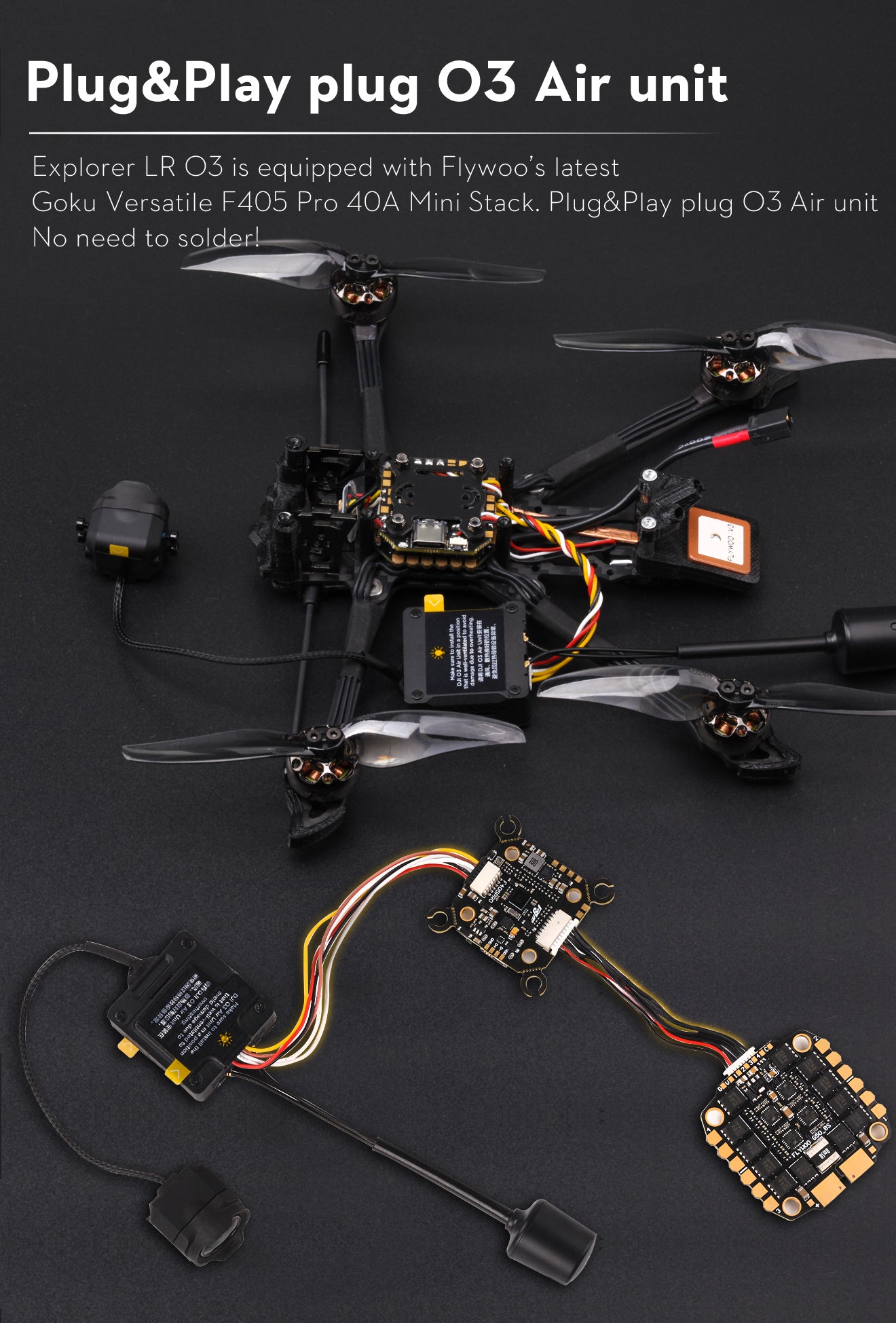 Specifications :
Model: Explorer LR 4 HD DJI O3 (Without O3 Air unit )
Brand: FLYWOO
Frame: Explorer LR 4 O3 (Different from OG Explorer LR frame )
FC and ESC : Goku Versatile F405 Pro Mini Stack ( F405 FC+ 40A ESC ) 8Bit 2-6S 20 x20 Plug&Play plug O3 Air unit
VTX: NO
Camera: NO
Propeller: 4024-2
Antenna: NO
Motor: Nin V2 1404 2750kv
Recommended Battery: Explorer 18650 4S \ Exploer 900mah 4S \ Explorer 750mah 4S
In the Box :
1 x Explorer LR 4 O3 (Without O3 Air unit )
8 x Gemfan 4024-2 Balck
2 x Battery strap 15x180mm
1 x Set of screws