Roll over image to zoom in
Description



If the goggles OSD disappears after the update, please contact tech support
flywoofpv@outlook.com

Explorer LR quad is the masterpiece of the collaboration between Flywoo and #micro long range original creator Dave_C .  #Micro long range is a brand new field, and we will explore more fun in this field with Dave_C in the future.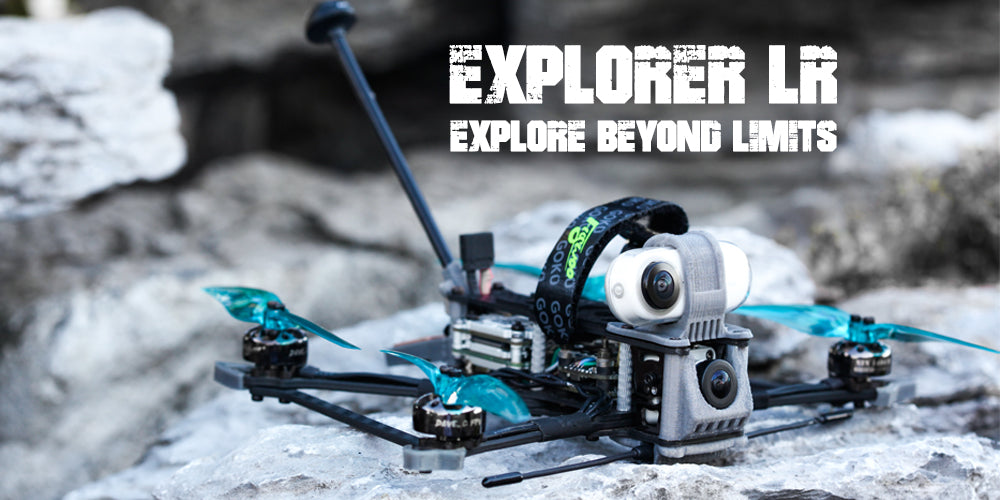 For me personally, Long Range cruising through epic landscapes is the best thing about FPV! But unfortunately, it was always kind of difficult to practice legally and without bothering people with all the noise a massive 6 or 7" long range quad produces.
So the basic idea behind the original Project #MicroLongRange was born: Scale down a 7" long range quad until it is below 250g take off weight. With the support of an awesome community on Facebook and Instagram as well as a massive development effort by Flywoo, this concept has seen a lot of improvements that are now all implemented in the Explorer LR!
This tiny quad is equipped with GPS, Crossfire and an independent model finder to give you the necessary confidence to push it to the maximum range of digital and analogue video transmission. The powertrain with it's GOKU 16x16 stack and the all new 2700kV 1404 motors spinning 4" props is optimized for maximum efficiency and low weight: Flight times of way over ten minutes on a regular 850mah 4S LiPo battery are easily achievable! Cruising speeds of 40-50 kph (25-30mph) are astonishingly high for such a small quad and have allowed me to do 10km (6 mile) round trips easily. And the best thing about it: It's incredibly quiet! You will barely be able to hear it flying by as soon as you are a few dozen meters away. "
                                                                        ----- Dave_C FPV 

Highlights & Specification :
1\ The lightweight 4-inch quad below 250g even if you connect with the battery, meet the current requested of FAA rules. Easy to control and long flight time, we strongly recommend to FPV beginners and pilots who like to cruise!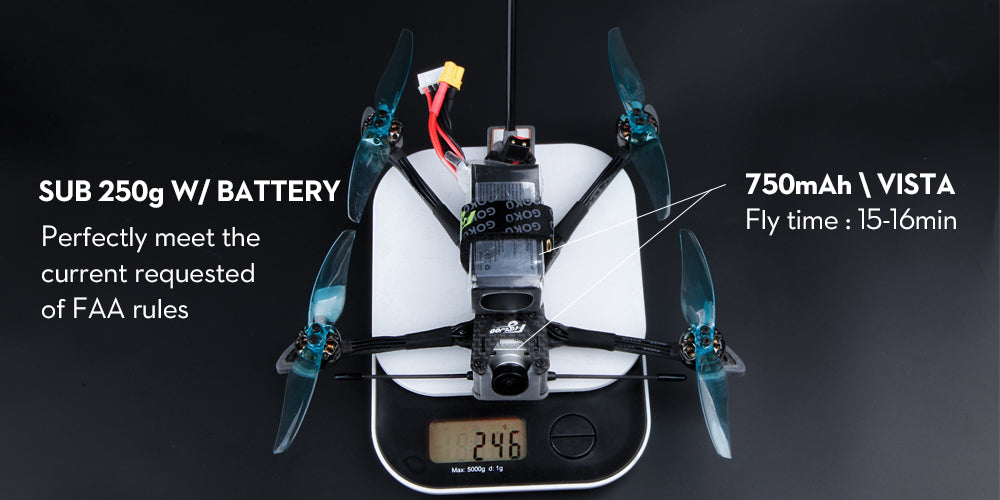 2\ Equipped with
GOKU 16X16 MICRO STACK
, and
NIN 1404 v2-2750kv,
support 4s battery. You can get up to 20 minutes for cruising! So this is a quad that is very suitable for FPV beginners and long range enthusiasts!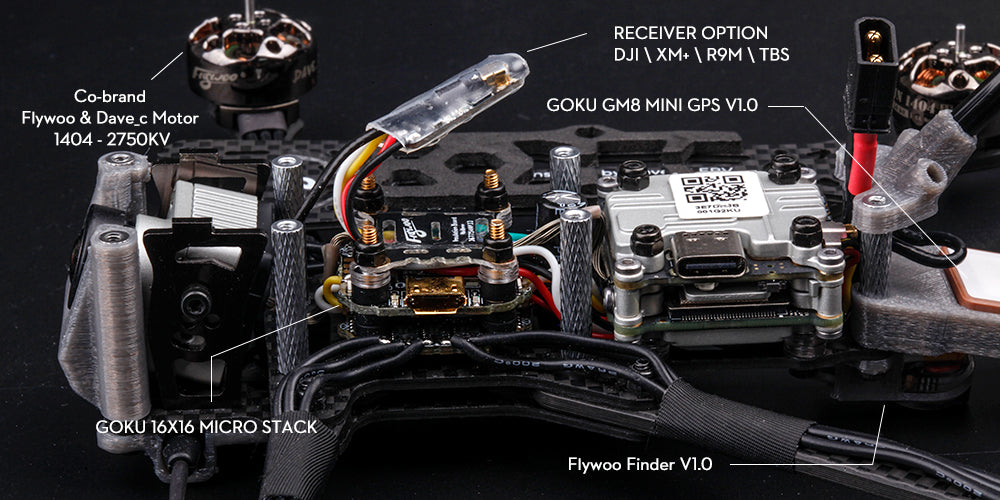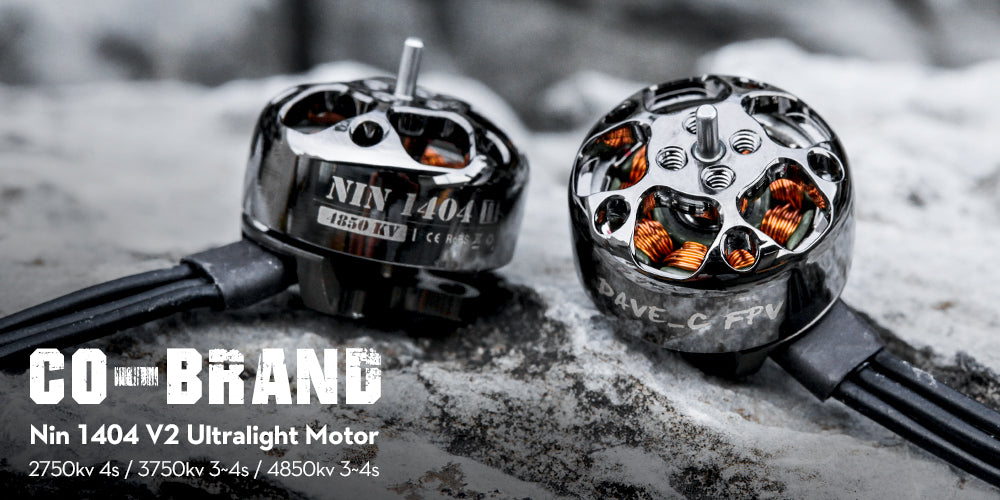 3、We recommend installing side carbon fiber plate to increase the strength and stability of the Arm.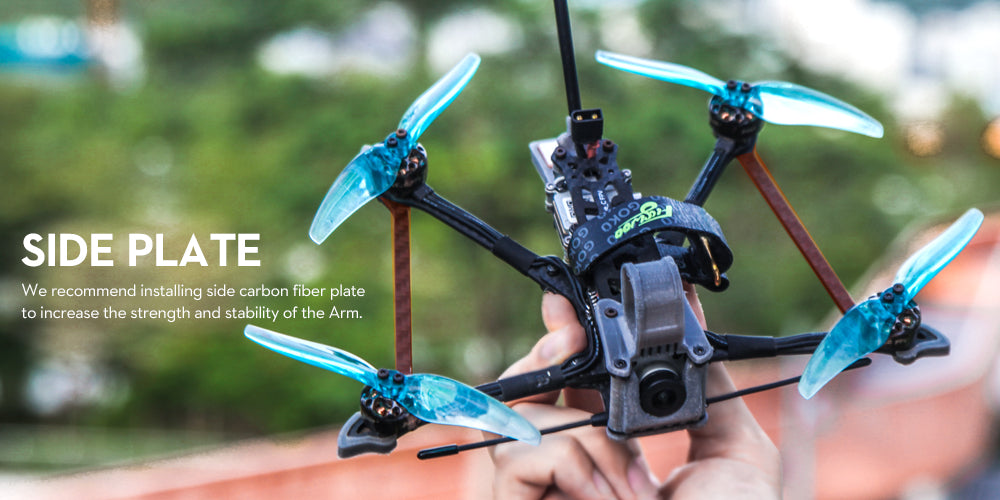 4、Flywoo Finder v1.0 how to work?
1\ Flywoo Finder v1.0 can power itself to beep and LED light to flash even the quad battery has been ejected.
2\ Fingder v1.0 can work for 4-5 hours.
3\ Press the button for 3 seconds to close it
Flywoo Goku Gps Mini V1.0  rescue function how to work  ? 
1. Before disarm, GPS must search for more than 5 satellites to lock the home position.
2. After disarm, observe the OSD data during the flight, and the rescue function can work normally only if the distance exceeds 100 m. Otherwise, the quad will crash.
3. If the remote control suddenly loses signal, the GPS rescue function will work automatically and return to the home position. (Set the AUX of GPS rescue mode in betaflight Failsafe, the default is AUX3 2000)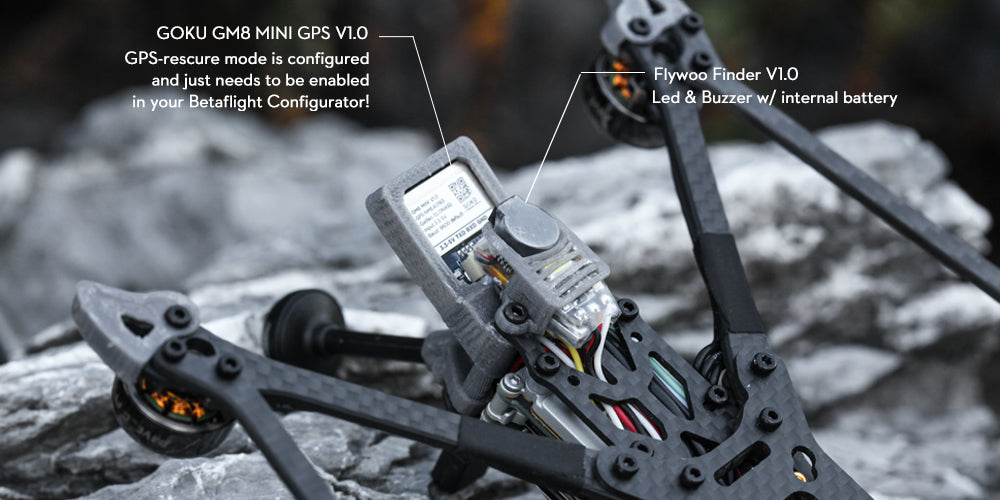 5\Flywoo  ATOMIC 5.8G antenna customized for Explorer LR ! Of course it is also suitable for any other FPV drones!  ( LHCP Ant )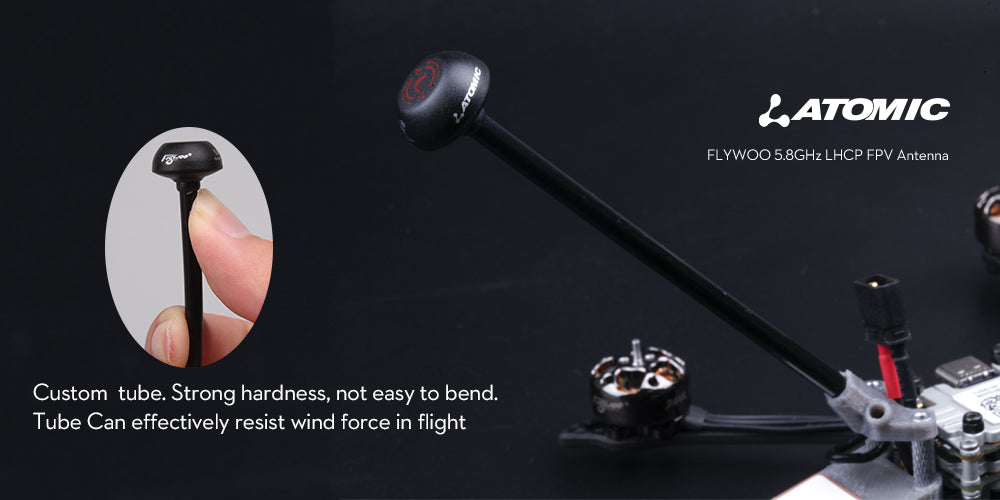 6\ In order to get the best flight experience, we used a better Vista cam, not a Nebula cam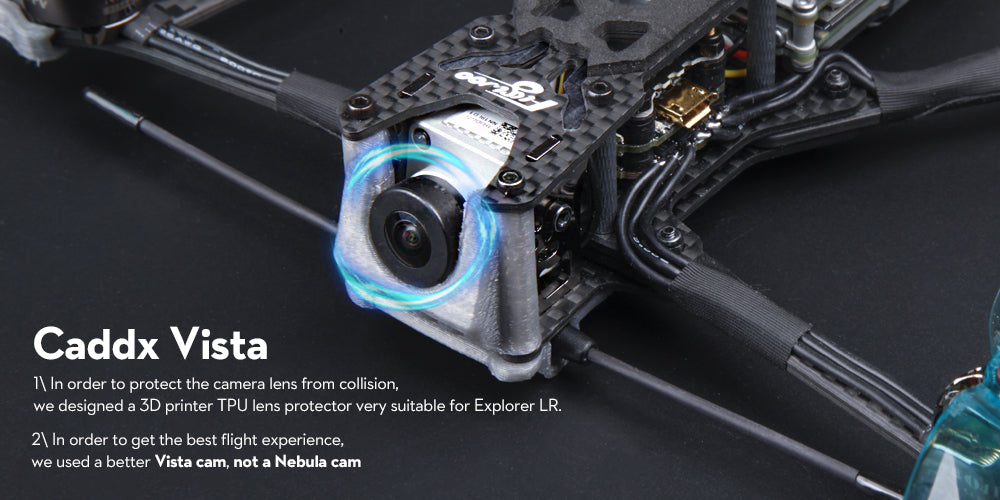 Package : 

1* Prebuilt and tested Explorer LR Drone 
1* Spare Front Arm 
1* Side carbon plate 1 set
1* Spare srew
2*Gemfan 4024 4pcs 
1*Flywoo 4X10mm Arm led board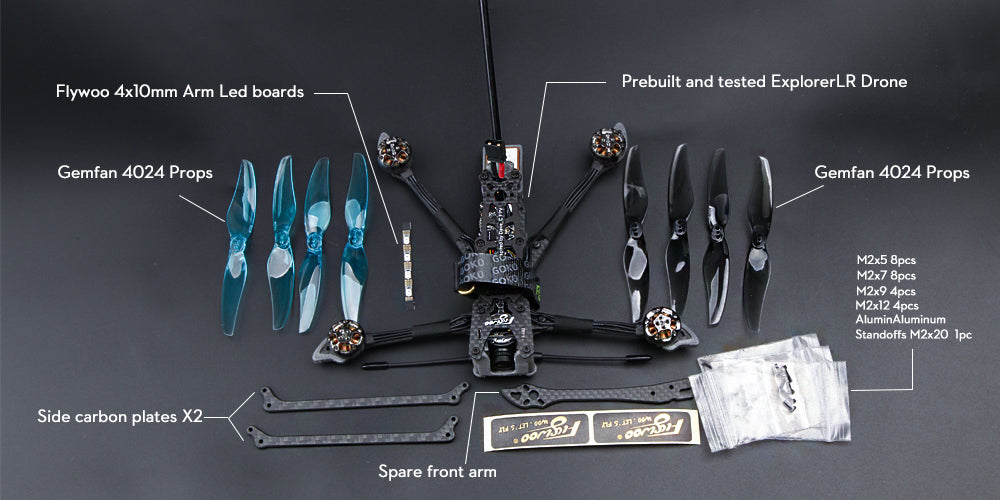 Great Quads thanks to Dave C ?qc / cs?
Love this little quad, ordered two only received one. When I configured it although I ordered it for DJ controller it had a wire loom for an external receiver. Attempted to mount the arm stabilizers and the first motor screw I touched had been snapped from the factory. Contacted customer service told them that I needed a motor replacement as the broken screw is still stuck in the motor and they offered To send me replacement screws, 1000 screws would not take the broken screw from the motor! Communication or poor customer service? Still waiting for the other drone I'm seriously considering canceling the order and contacting my credit card company to dispute the charge. Thanks Dave C. F flywoo. Probably should've built my own
Revolutionary drone, good value, some minor issues to fix
I purchased the DJI version of the Explorer LR (HD). On my first flight, I went out a little further and I lost signal over a corn field about 600 ft from my house. I thought I lost the quad, but was able to recover it the next day and it had no issues.
The GPS signal locks on fairly quickly (less than 30 seconds power up) with the right settings, but originally it was taking several minutes. I like that it has many features. The flight of the drone is good overall. The only issue I have is that the front right arm sometimes gets loose after a small crash or hard landing, and it will cause the props to touch (front and rear props).
Some users report glitching with the OSD because the MSP is using Soft Serial. I have not had this problem yet, because I am running FrSky XM+. But I believe Crossfire and possibly Ghost will have this issue. It would be nice if the FC was an f7 with more UART's as opposed to the small F4. I've also heard of issues with the CPU being overloaded and causing the drone to drop- which may have been my issue. The antenna is also not made the best and the soldering connection can come undone easy.
I think there is a lot to like here and the value is good, but it feels very much like it needs some improvements. My recommendations: more rigid arm connection to frame, and change from F4 to F7 flight controller for the proper amount of UARTS for more stability and less load / glitching.
Long Flight Times
I'm getting 18 minute flight times out of a 1000 mah 4s battery. The new antenna is giving me noticeable longer distance compared to the stock Vista and DJI Air Unit antennas. Great cruising around quad!
Awesome Quad
Perfect for long range, trust me... get one!
Patience
Everyone should calm down. When I ordered my Flywoo a month ago it was fairly obvious many people had also ordered them. There was an additional 5 to 17 day(backorder) wait on top of the already 5 to 9 business (testing) day wait when I ordered. So I knew it would be at least a month before I had any shipping. Flywoo responded to my first email and provided great customer service. This is a very small company with a very innovative product. I'm sure their very small team is largely overwhelmed. I can understand the frustration you all feel but please maintain realistic expectations of what can and can't be done.
Payment & Security
Your payment information is processed securely. We do not store credit card details nor have access to your credit card information.