Roll over image to zoom in
Description
FLYWOO new top GOKU series AIO are finally here! GOKU HDF4 40A FC is an economical and durable all-in-one AIO , which can meet most your FPV needs.
Use powerful F411 chip and BLHELI_S ESC firmware, integrate DUAL BEC , black box, support 2 complete hardware serial ports, and 1 Soft serial port. I2C and other functions are all open.
This is currently the most integrated and powerful F411 AIO board on the market. It brings pilots a more stable and smoother flight.! Perfect for 3''-5'' ultralight quad! It will be the most powerful F411 AIO board in 2021.
GN411EVO HD BLHELI_S 40A
Specification:
MCU: STM32F411
IMU: MPU6000 (SPI)
USB VCP Driver (all UARTs usable simultaneously; USB does not take up a UART)
2 hardware UARTS (UART1,2)
1 Software serial port
Supports serial receivers (SBUS, iBus, Spektrum, Crossfire) only.
PPM and PWM receivers are not supported.
Onbord 8Mbytes for Blackbox logging
9V Power Out: 1.5A max
5V Power Out: 2.0A max
3.3V Power Out: 0.5A max
Dimensions: 41x32mm
Mounting Holes: Standard 20mm square to center of holes 
Weight: 8.5g

Built-in 20A/40A BL_S 4in1 ESC
Support BLheli / BLHELI_S
Support PWM, Oneshot125, Oneshot42, Multishot, Dshot150, Dshot300, Dshot600
Input Voltage: 2-6S Lipo
Continuous Current: 40A
Firmware: BLHELI_S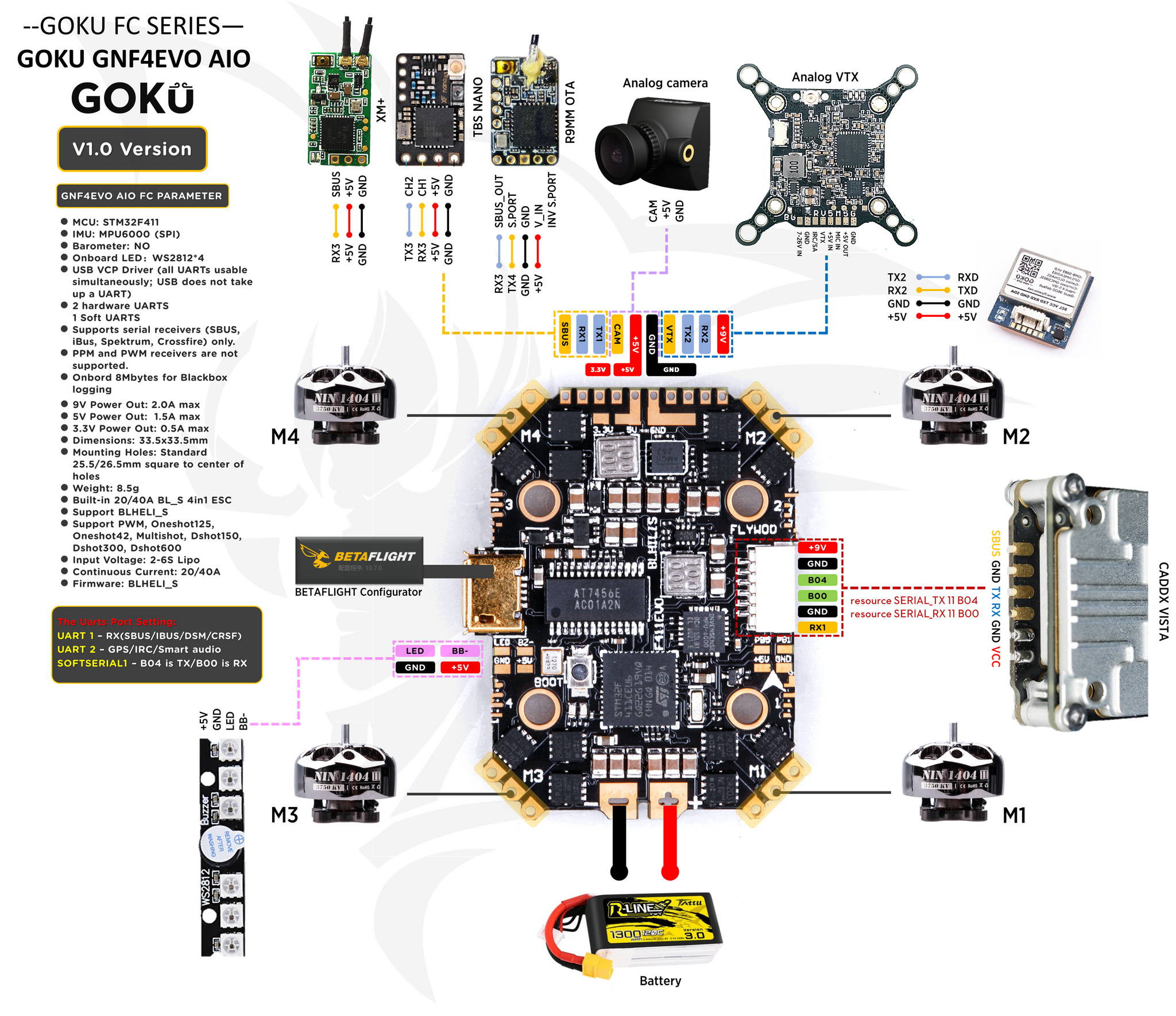 given wrong CLI dump
I reached out to flywoo and I got no response. I left a review and they sent me the wrong CLI dump. I just want to get this flight controller working right but the support is not what I hoped for....
The dump they provided is in their downloads that everyone has access to. I just need the factory dump for this board.
Same motor4 issue
yeah im having the same problem with the motor4 not being mapped and im having the problem with both boards that I purchased can I please have the cli dump file I can't seem to find it anywhere for the HDF4 EVO 40A
Issue fixed! Use Caution if Updating Betaflight!
Customer service very quickly supplied me with a CLI file to get this AIO FC up and running! Fantastic service. The board is working great in an sub-250g freestlye 5". Test flight complete and she flies!
Initial Review/Comment: "Resource Motor 4 is not mapped correctly for this board in Betaflight flashes for FLYWOO411 and Flywoo doesn't seem to have the dump available as far as I can tell. I'm not sure what the correct resource map is."
Hi , i sent you CLI Dump for the GOKU HDF4 EVO 40A , pls check .
Payment & Security
Your payment information is processed securely. We do not store credit card details nor have access to your credit card information.