Roll over image to zoom in
Description
FLYWOO new top GOKU series AIO are finally here! GOKU GNF4 40A FC is an economical and durable all-in-one AIO , which can meet most your FPV needs.


Use powerful F411 chip and BLHELI_32 ESC firmware, integrate 5V BEC, barometer, black box, WS2812LED, support 2 complete hardware serial ports, and 2 Soft serial port. I2C and other functions are all open.
This is currently the most integrated and powerful F411 AIO board on the market. It brings pilots a more stable and smoother flight.! Perfect for 3''-5'' ultralight quad! It will be the most powerful F411 AIO board in 2021.
GN411AIO BLHELI_32 40A
Specification:
MCU: STM32F411
IMU: MPU6000 (SPI)
USB VCP Driver (all UARTs usable simultaneously; USB does not take up a UART)
2 hardware UARTS (UART1,2)
2 Software serial port/Support ESC telemetry
Onboard LED:WS2812*4
Supports serial receivers (SBUS, iBus, Spektrum, Crossfire) only.
PPM and PWM receivers are not supported.
Onbord 8Mbytes for Blackbox logging
5V Power Out: 2.0A max
3.3V Power Out: 0.5A max
Dimensions: 33.5x33.5mm
Mounting Holes: Standard 25.5/26.5mm square to center of holes 
Weight: 8.5g

Built-in 20A/40A BL_32 4in1 ESC
Support BLheli / BLHELI_32
Support PWM, Oneshot125, Oneshot42, Multishot, Dshot150, Dshot300, Dshot600, Dshot1200
Input Voltage: 2-6S Lipo
Continuous Current: 40A
Firmware: BLHELI_32
RECOMMENDED COMPONENTS FOR GOKU GNF4 40A AIO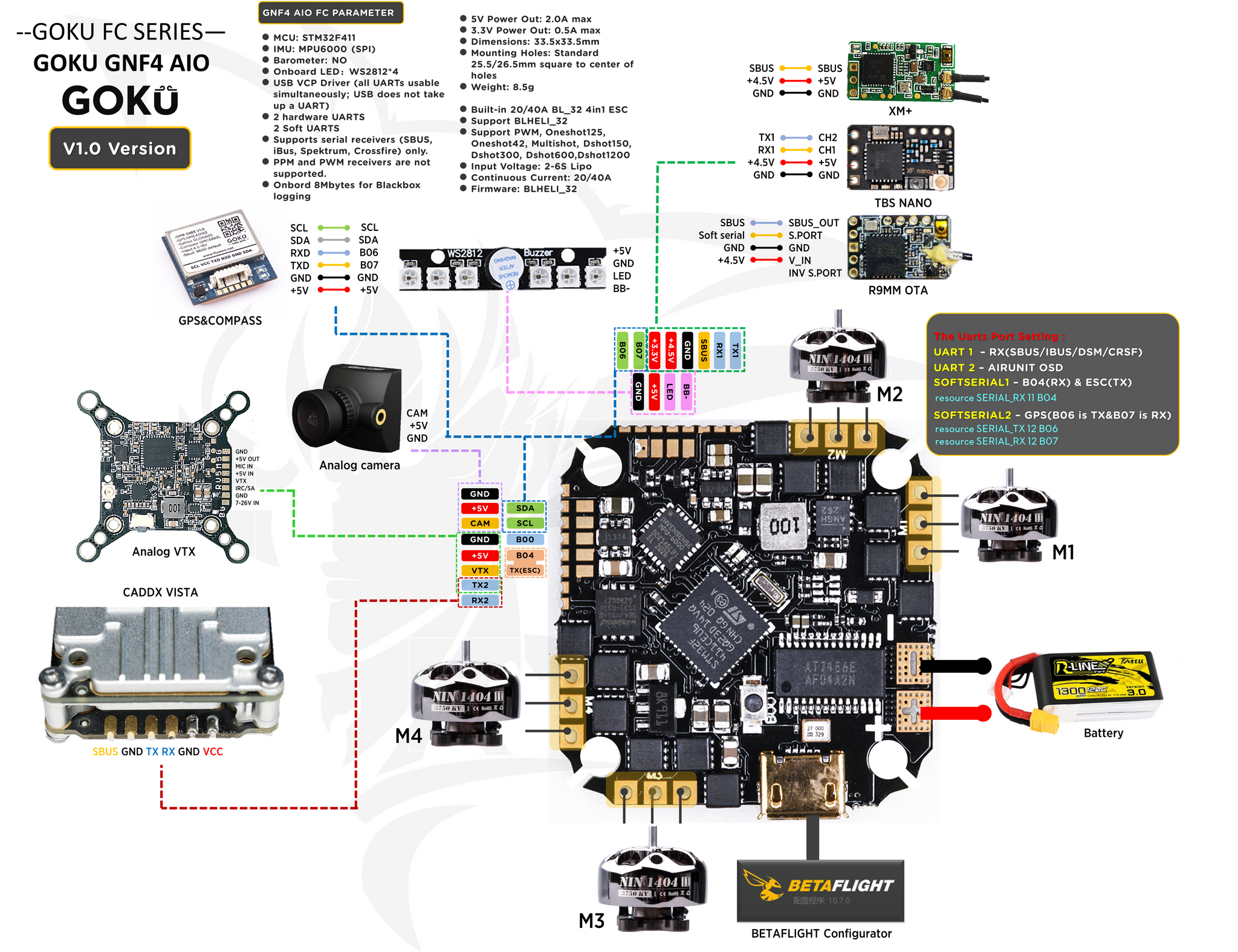 Good flight controller, but problems with the OSD
very cool flight controller. Especially the ESCs are pretty beefy and the LEDs look very cool! At least my Unit had problems with the OSD AC-coupling (only very small MLCC caps, probably not DC-derated). I had some kind of "white out" while flying where the brigthness seemed to be much too high. I was able to change this to some proper AC coupling with tantal-caps, now everything works fine. Overall solid product!
Payment & Security
Your payment information is processed securely. We do not store credit card details nor have access to your credit card information.