Roll over image to zoom in
Description
This is a smallest but most spowerful F745 flight controller packed with features including a barometer, blackbox, 7 complete hardware serial ports, I2C functionality and WS2812 LEDs on each corner. 
 It is specifically designed to be pin mounted to the Goku  BS13A / 20A / 35A  4in1 16x16 ESCs but can also be soldered via pads. The programmable WS2812 LED on each corner provide low profile lighting for this tiny FC.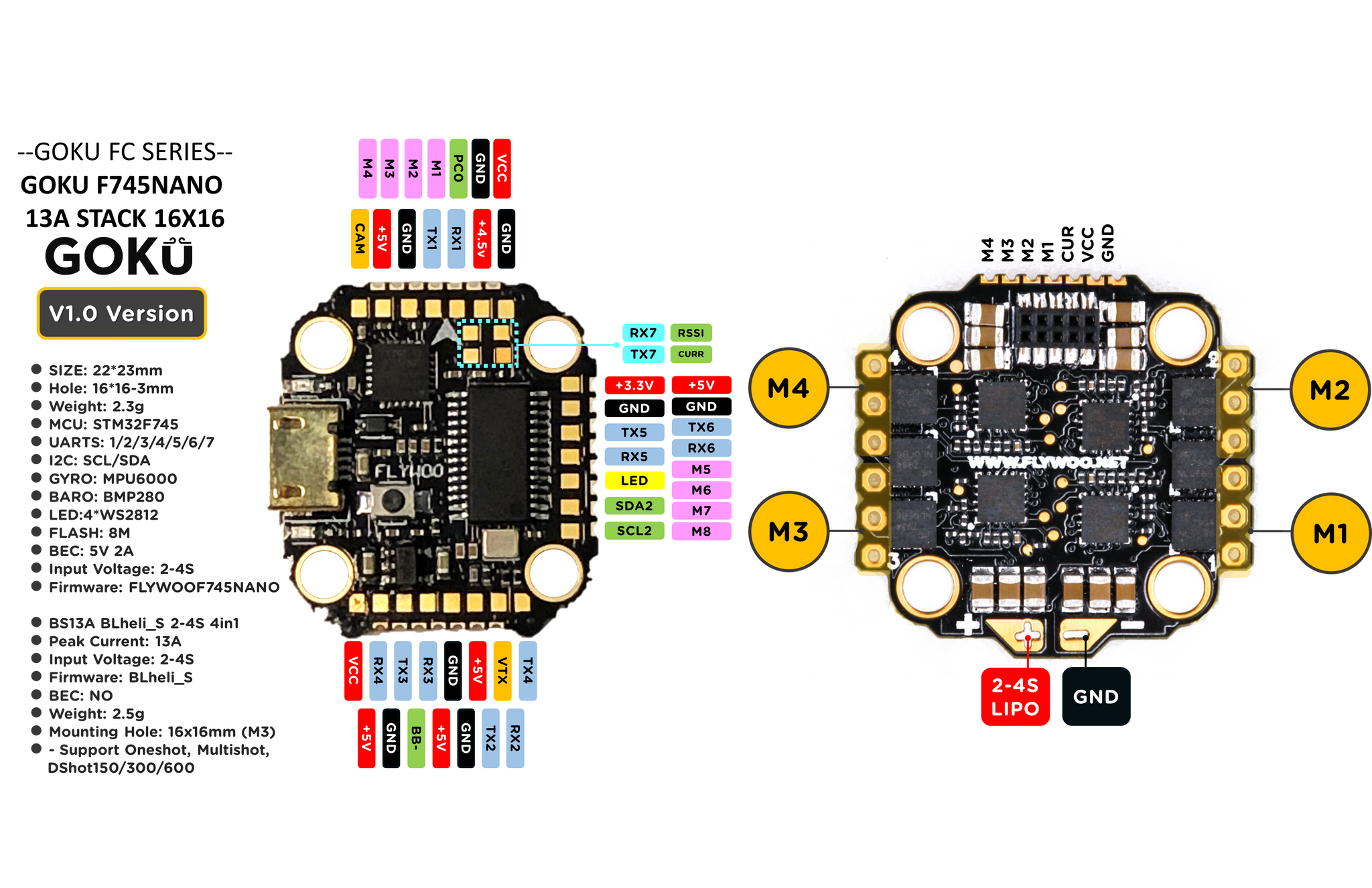 Specifications
SIZE: 22*23mm Weight: 2.3g
Hole: 16*16-3mm
MCU: STM32F745
UARTS: 1/2/3/4/5/6/7
I2C: SCL/SDA
GYRO: MPU6000
BARO: BMP280 BEC: 5V 2A
LED:4*WS2812 FLASH: 8M
Input Voltage: 2-6S
Firmware: FLYWOOF745NANO
It was a good attempt
Unfortunately could not get the osd to work. Caused the VTX not to work. Customer service was good got back to me fast, sent a replacement same problem. Appreciate the help, maybe better luck next time.
Great FC
I ordered it as a replacement FC for my Explorer LR 4 with F4. The Upgrade was quit simple. The layout of the Solder Pads is better. No more wires across the FC and Gyro, shorter wires are possible. Enough Uarts for all kind of perephery, no more Sofserial. Much better Performance and better flying experience. The only downside I noticed noticed until now is that the FC gets hotter, I thinke due the more powerfull F7 Chip.But overall defenetly worth the Upgrade.
V1.0
I ordered this Goku F745 as upgrade for my L4 explorer V1, and flies very good. PIDs were tuned better then my original FC in exlorer. After couple use, input voltage circuit stoped work and one component is heating extremely. Idk why this happens, I didn't change anything on my quad so not sure. Will try to change this component because its not worth it to send it back to flywoo.
Payment & Security
Your payment information is processed securely. We do not store credit card details nor have access to your credit card information.