Roll over image to zoom in
Description
FLYWOO TX-NANO AND VTX625 Instructions
Reviews
Description
FLYWOO TX-NANO AND VTX625 Instructions
GOKU F411 FC V2.2: 
MCU: STM32F411
IMU: MPU6000 (SPI)
USB VCP Driver (all UARTs usable simultaneously; USB does not take up a UART)
2 hardware UARTS (UART1,2)
2 Software serial port
1 I2C port for compass/baro
Onboard LED:WS2812*8(FC*4/ESC*4)
Supports serial receivers (SBUS, iBus, Spektrum, Crossfire) only.
PPM and PWM receivers are not supported.
Onbord 8Mbytes for Blackbox logging
5V Power Out: 2.0A max
3.3V Power Out: 0.5A max
Dimensions: 23.5x23.5mm
Mounting Holes: Standard 16mm square to center of holes 
Weight: 6.5g
GOKU BS13A ESC:
Model: GOKU BS13A ESC
ESC MCU: BB21F16G
Continuous current: 13A
Input:2-4s lipo
Supports Dshot600 ,Oneshot,Multishot
Size: 24×24mm board,16mm mounting holes (M3)
Weight: 2.6g

GOKU VTX625
Output Power: PIT/25mW/50mW/100mW/200mW/450mW Switchable
Control Mode: BFOSD Control(RX)/Button
BAT: 5V
LED: 4*WS2812LED
Video System: NTSC/PAL
Antenna: IPEX
Size: 31MM*31MM
hole: 16*16mm/20*20mm/25.5*25.5mm
Weight: 3g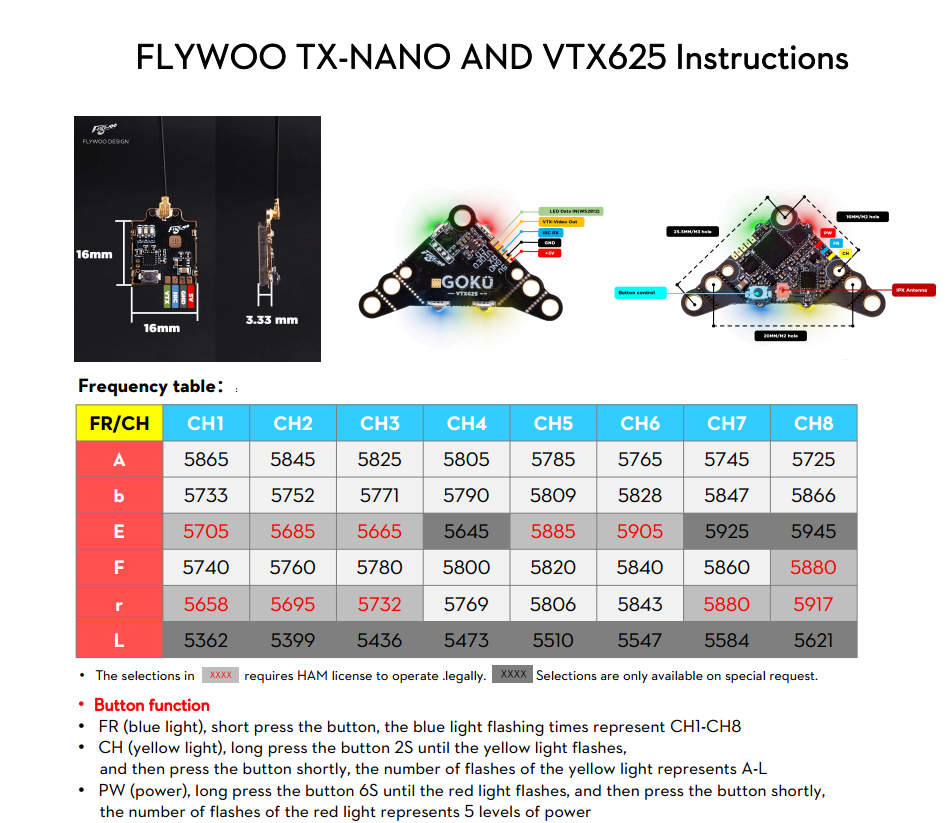 Reviews
Payment & Security
Your payment information is processed securely. We do not store credit card details nor have access to your credit card information.