Roll over image to zoom in
Description
FLYWOO Finder V1.0 BB Ring 100dB Buzzer Alarm with LED Light Support BF CF Flight Control Parts for RC Micro Drone Quad

The buzzer has two modes of operation:
1. It is compatible with the functions of the traditional active buzzer and synchronized with the flight control.
2. When the flight control is normally connected, if the main battery in the flight is powered off, it can still automatically emit 100 dB of drip sound after 30 seconds of power failure, and the LED will emit white light.

To turn off the buzzer: Press and hold the release button for more than 2 seconds, the Finder V1.0 turns off the sound.

The Finder is compatible with all BF and CF flight controls. Just connect to the buzzer interface of the flight controller and it will work. When the flight control wiring is correct, the multi-rotor aircraft is powered on, and the flight control power supply will be automatically charged for the Finder (the red LED will light to indicate charging is in progress, the red light is off to indicate charging saturation; the red light flashing indicates flight control) Electricity, enter 30 seconds waiting time).

Size: 21*11*9.5MM
Weight: 2.7 grams

Package include:
1 X Finder V1.0 SE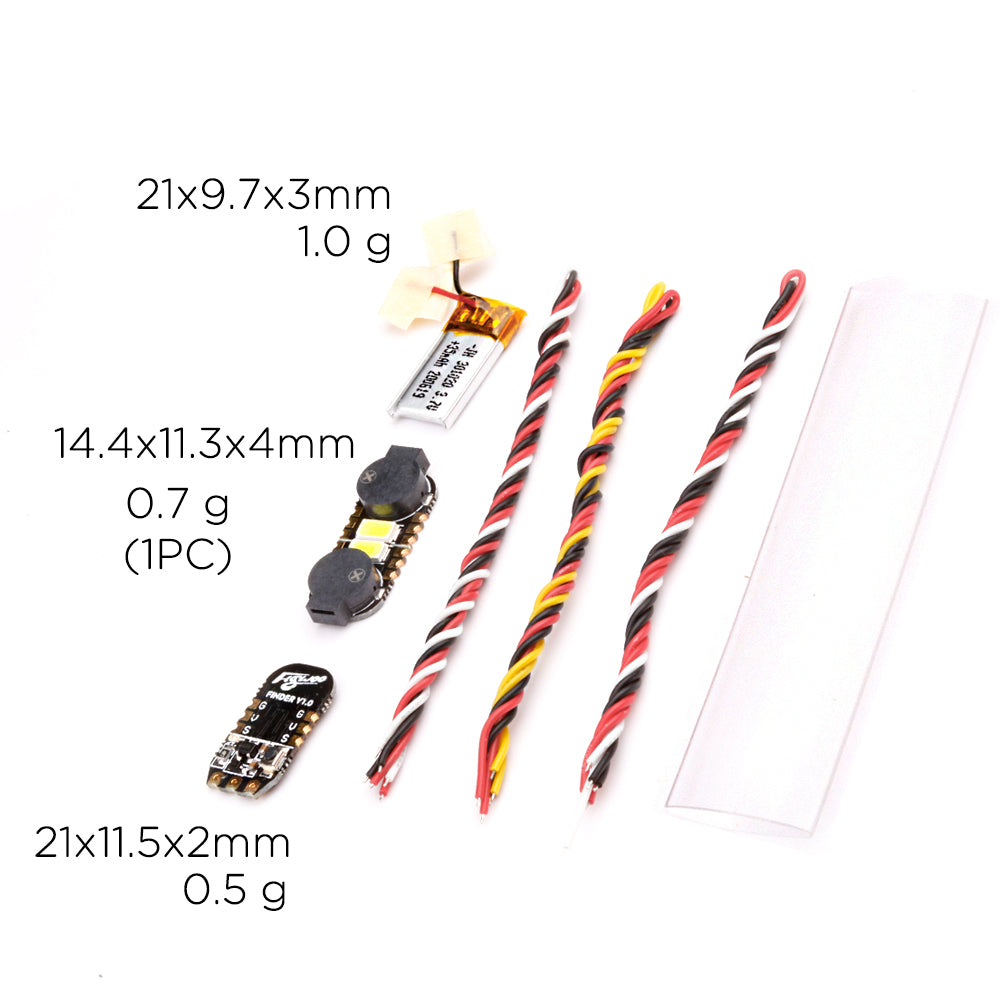 Reviews
Finder buzzer
I liked the fact that the buzzer has two buzzers and two LEDs. But it is more difficult to install due to the three seperate boards than other all in one ones I have used before. And I was a bit dissapointed that it does not have as much volume as I had hoped for. This was such a concern that i decided to not risk losing my quad and rather went back to using another all in one buzzer that is much louder. I cannot recomend it due to the fact that is not loud enough.
Nice looking but not loud enough
I bought several items from Flywoo for my Mr Croc 5 inch build. This was the only one I regret a little bit. Firstly it is very nice that you get two buzzers and two LEDs, but they are way too soft! And the battery is so tiny... I wonder how long it will keep beeping when you lose your quad. And lastly... having to solder three board and a battery up make installing this way more complicated and unreliable than it should have been. I am probably going to replace this with a cheap tried and tested alternative device.
Nulla di speciale
Nulla di speciale, buzzer con suono e luce led nella norma niente di più, segnalo che un paio di volte si è bloccato con suono e luce continua fino al distacco della batteria.
Payment & Security
Your payment information is processed securely. We do not store credit card details nor have access to your credit card information.