Roll over image to zoom in
Description


Specificaiton:

GOKU 506S 50A ESC 
Brand Name: FLYWOO
Model: GOKU506S
Item Name: 50A BLheli_32 2-6S 4in1 Brushless ESC 
Con. Current: 50A
Burst Current: 55A ( 10 Seconds)
Input Voltage: 2-6S
Firmware: GOKU32_PRO
Support DShot300/600/1200
LED: 4*WS2812
Current Sensor: YES 
Telemetry Function: Yes
BEC Output: NO
Size: 42×42×4mm
Mounting Hole: 30.5x30.5mm ( M3)
Weight: 10g
GOKU F722DUAL FC
Hole: 30.5*30.5-3mm
MCU: STM32F722RET6 216MHz
GYRO:

 MPU6000

BARO: BMP280/FLASH: 16M
Input Voltage: 3-8s/BEC: 5V 2A/9V 2A
Dual camera switch&VTX power switch&Support Camera Menu Settings
Max voltage 50V input
6 Functional UARTS (UART1,2,3,4,5,6)
Max 6 motor output
Firmware: FLYWOOF722DUAL
Package Included:

1x GOKU506S 50A 4in1 ESC
1x bag of Screw
1x bag of Anti-vibration Ball
1x Capacitor
1x Manual
 How to work leds ?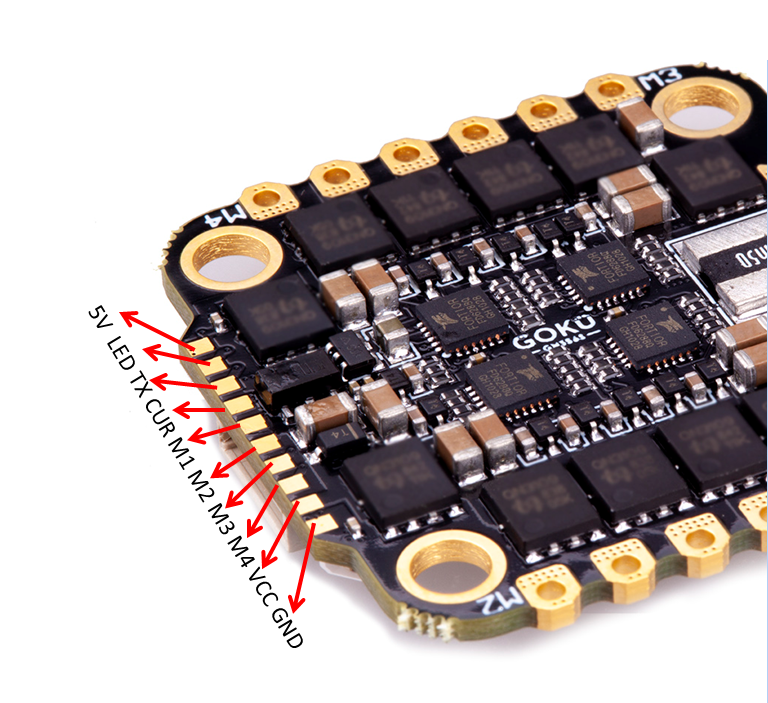 Board orientation arrow that's funny.
Don't need a painted arrow on board when there is a orientation 3D representation of quad in betaflight or whatever you choose for firmware. And you plug board in before you do anything and it will show which way it should mount so disregard that nonsense.
Stack au top
La meilleure Stack que j'ai eux pour le moment, solide, pratique et beaucoup de possibilités, les leds sur les esc... Bref je recommande cette Stack !
FLYWOO GOKU506S 30.5x30.5mm 50A BLheli_32 2-6S 4in1
Very good stack fly's very well!!!!!!
awesome
only problem i hqve with this beautiful stack is that there's no clear indication of orientation. noticed the company logo facing one direction and the fc id in another. this is my first brand new stack, and my first experience with flywoo. im loving it thus far, on looks alone as i have yet to get it to hover due to what is most likely orientation. ill figure it out and fly today, im sure. id like to see future boards come with an arrow or some kind of clear indication. or at least a mark on the manual pointing to the front of both chips. that would be beneficial to both the customer and to flywoo. just an edit of the online manual instead of the extra ink it'd take to print arrows on each board. win win.. love the product, cant wait to purchase more from flywoo. i like their style.
Payment & Security
Your payment information is processed securely. We do not store credit card details nor have access to your credit card information.