Roll over image to zoom in
Description


Specificaiton:

GOKU 506S 50A ESC 
Brand Name: FLYWOO
Model: GOKU506S
Item Name: 50A BLheli_32 2-6S 4in1 Brushless ESC 
Con. Current: 50A
Burst Current: 55A ( 10 Seconds)
Input Voltage: 2-6S
Firmware: GOKU32_PRO
Support DShot300/600/1200
LED: 4*WS2812
Current Sensor: YES 
Telemetry Function: Yes
BEC Output: NO
Size: 42×42×4mm
Mounting Hole: 30.5x30.5mm ( M3)
Weight: 10g
GOKU F722DUAL FC
Hole: 30.5*30.5-3mm
MCU: STM32F722RET6 216MHz
GYRO:

 MPU6000

BARO: BMP280/FLASH: 16M
Input Voltage: 3-8s/BEC: 5V 2A/9V 2A
Dual camera switch&VTX power switch&Support Camera Menu Settings
Max voltage 50V input
6 Functional UARTS (UART1,2,3,4,5,6)
Max 6 motor output
Firmware: FLYWOOF722DUAL
Package Included:

1x GOKU506S 50A 4in1 ESC
1x bag of Screw
1x bag of Anti-vibration Ball
1x Capacitor
1x Manual
 How to work leds ?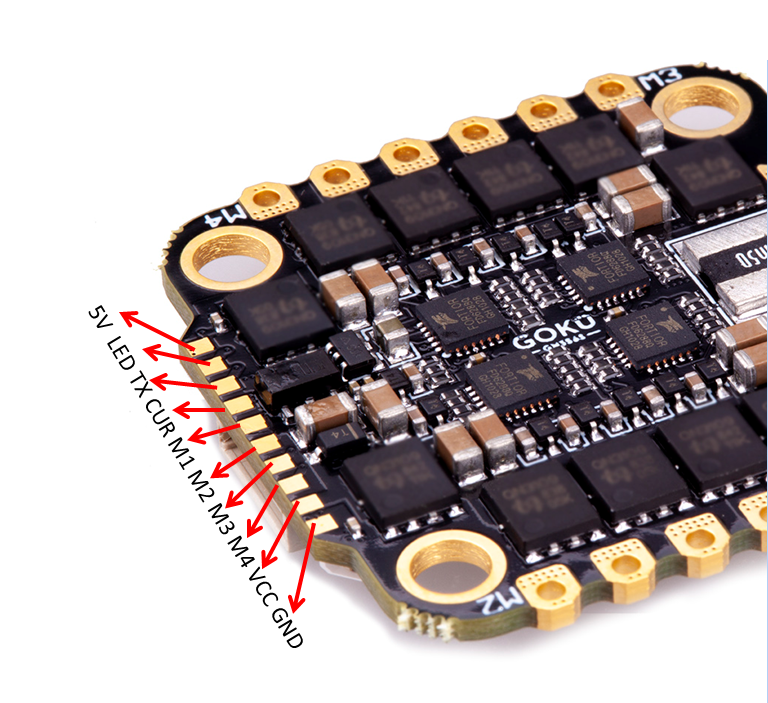 ESC okay, FC sucks
Took my quad out for a fly, landed, packed up my gear and went home. Went to change my rates on betaflight. Plugged it in and had no response. No lights or anything working on the fc.
I plug a lipo in to power it through the ESC. Nothing.
The FC just died.
Tried contacting banggood but no response. Any review I left got taken down so I figured I'd put it here instead
how do you connect the battery
there's not enough space to connect the battery leads to the ESC because of the plug on the FC. You can verify this even on the product picture. Unfortunately with mine the LED and the 5V Pad on the ESC ware bridged and couldn't use the LEDs on the board. The only one reason why I got it :(
the support thinks I've bridged then unintentionally but cant tell me where to look for the bridge.
Board orientation arrow that's funny.
Don't need a painted arrow on board when there is a orientation 3D representation of quad in betaflight or whatever you choose for firmware. And you plug board in before you do anything and it will show which way it should mount so disregard that nonsense.
Stack au top
La meilleure Stack que j'ai eux pour le moment, solide, pratique et beaucoup de possibilités, les leds sur les esc... Bref je recommande cette Stack !
FLYWOO GOKU506S 30.5x30.5mm 50A BLheli_32 2-6S 4in1
Very good stack fly's very well!!!!!!
Payment & Security
Your payment information is processed securely. We do not store credit card details nor have access to your credit card information.