Roll over image to zoom in
Description
Main Changelog  : (Sept 26th )
Upgrade Nebula Nano V2 to Caddx Polar Nano Camera . Better lens, super night vision effect
In an effort to push the boundaries of carry the camera on the smallest platform, Flywoo designed the smallest quadcotper possible in their history.
Firefly Baby Quad , a nano- sized fpv drone designed to carry Insta 360go ,SMO 4K camera for some action flying.  
Weighing in at just 59g , the Firefly Baby Quad is small , flexible, stable , but is full of power and offers unmatched control .  Pilots can quietly enjoy the fun of shooting a video without jelly.
The Baby Quad is equipped with GOKU F745 13A STACK and 4pcs ROBO 1202.5 5500KV motors, to bring the Firefly a quiet, stable, flexible and long flight time characteristics. Perfect for the indoor and outdoor recording every beautiful flying moment!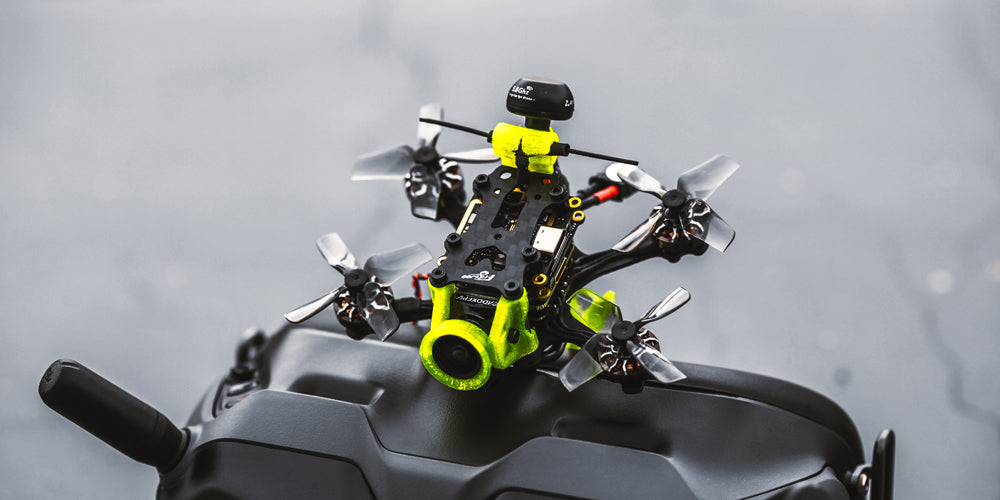 Specifications

Naked Polar Nano V2
To keep minimizing weight and optimal performance, we modified Polar HD Nano kit to save 10g weight. Flywoo is exploring more possibilities in the ultralight field. . This kit also can support with DJI goggles. With DJI goggles, Users can choose 25mW/200mW/500mW/700mW from DJI goggle settings.
Super non-slip upgrade
High Quality sticky battery pad for your LiPo Batteries. This durable battery pads made from PU material can stick to a battery at 90° on its side and even rotate 180° without falling!
Flywoo's newest strap offering is a perfect balance of light weight, functionality and durability. The surface of the Strap is covered with non-slip silicone . Perfect for micro drones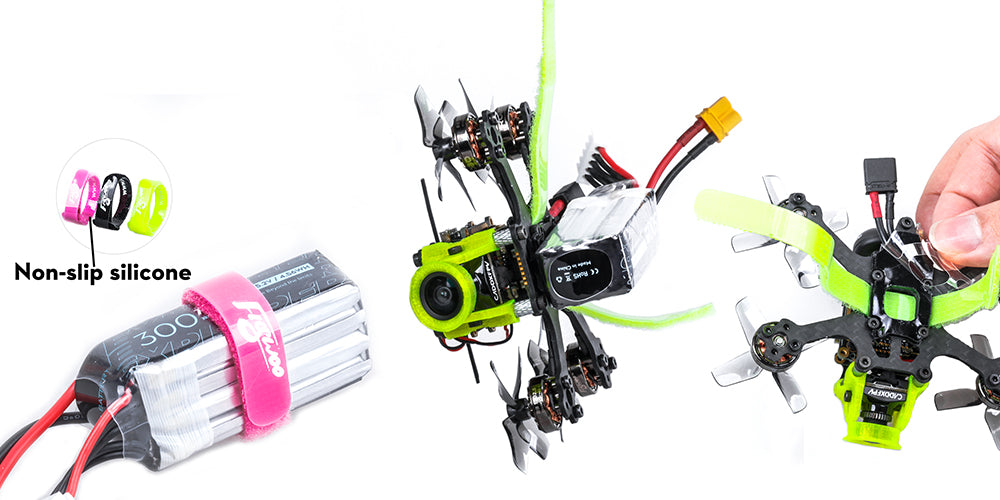 FC & ESC
GOKU F745 16X16 STACK Use powerful F745 BGA chip,barometer, black box, WS2812LED,support 7 complete hardware serial ports, I2C and other functions are all open ! Enough to meet all FPV needs.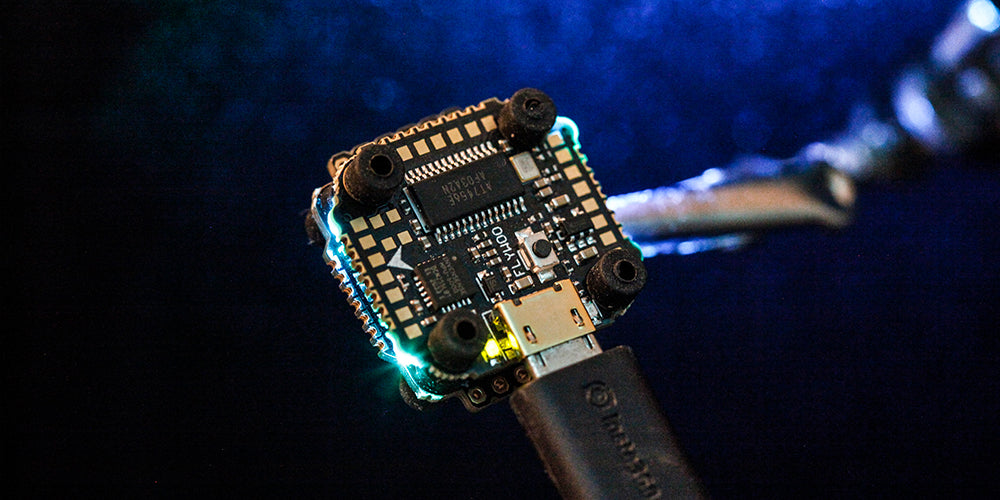 Battery recommend
Flight time:
About 4:00min flight with Explorer 450mAh 4S battery
About :3:00 min flight with Explorer 300mAh 4S battery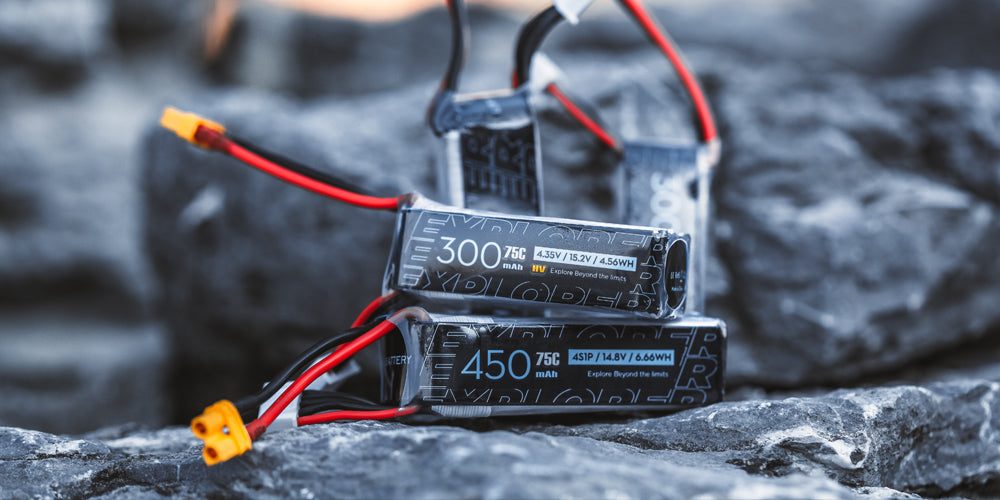 Includes

1 x Prebuilt and tested Firefly Baby Quad
2 x HQ 40mm 4-Blades Props
2 x FLywoo Battery Strap
1x Firefly spare hardware set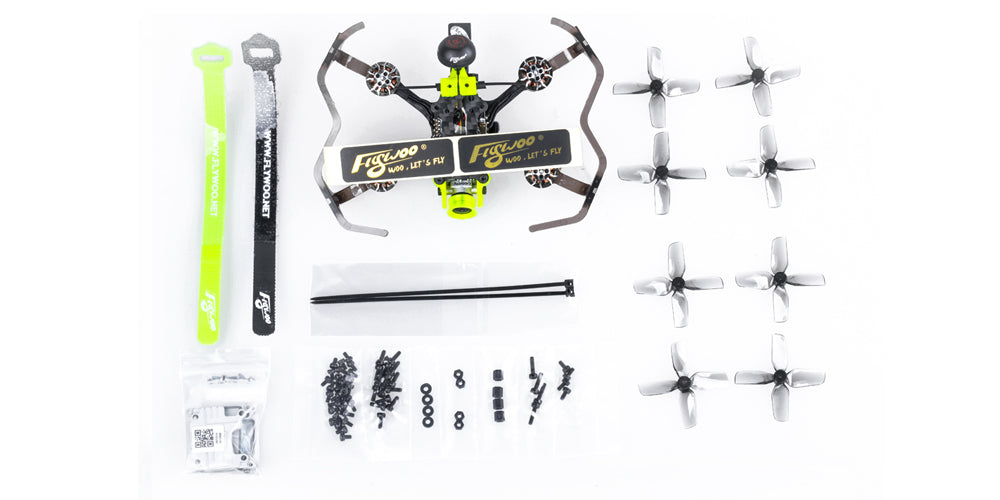 Amazing
So fun to fly. Great range
Great Little Flyer
This HD version is a great little flyer. Well tuned from factory it flies superbly well straight out of the box. No issues with binding to the DJI goggles or controller and capable of 4 to 5 minute flight times with 450. Props however are fragile so order additional you will probably need them. Camera is small but not the best effort from Cadex with inconsistent colour rendition and oh yes don't every fly it in long grass as you'll never find it if it does go down. That said you will have lots of fun with this little gem.
Fun little ripper
This little baby is fun. I took off a star because the props break if you look at them funny
Wow! The Baby Quad is Awesome.
I received my Baby Quad HD a week ago and got it with crossfire. The range is fantastic for a small drone. I would easily compare it to my Rocket Plus HD, except this is smaller and quieter and has a more extended range than the Rocket Plus HD. My first three flights were great, and I was impressed with the tune, the camera, and the speed of this Baby Quad. I got more than 5 1/2 minutes of flight on a 4s 450 battery. I had the throttle without a Go Pro at about 40% for the sustained flight. So I was surprised by the range. I love this little quad. The only suggestion is to avoid what I did. I flew a range test at a Nature preserve around the backside of a stand of trees. It was no problem the first time I did it. The second time I did it, my Crossfire Tango 2 transmitter gave me a critical signal verbal message, so I climbed over the stand to signal back, then my Baby Quad did a failsafe into a vast area of 6-foot weeds and vines never to be seen again. It's tiny and impossible to find if that happens because it does not have a beeper.
However, I loved my three flights so much that I was willing to spend another $360.00 to get another one. I ordered more prop guards. The prop guards and the props feel like they could break easily. I usually would not do that, but this quad is that good.
Also, I would recommend adding a beeper to the Baby Quad if you fly in anything more profound than a manicured lawn.
This drone works great!
Making a review for how amazing this is.
Payment & Security
Your payment information is processed securely. We do not store credit card details nor have access to your credit card information.