Roll over image to zoom in
Description
Features

The V2 version features a powerful F745 flight controller packed with features including a barometer, blackbox, 7 complete hardware serial ports, I2C functionality and WS2812 LEDs on each corner.
Built-in Bluetooth module, You can use mobile devices to set the parameters of the flight
This version does not include the Caddx Vista HD System ! But easy for set up Vista HD 

Built-in Smo 4k camera power cable 

Upgrade GPS to V2.0, use copper foil to effectively prevent the signal from being interfered by Vista

Main Changelog V2:
1、 Equipped with Goku HEX F745 16x16 stack 
2 、GPS upgraded to V2.0 Faster and more stable  (Link )
3、Built-in SMO 4K Camera power cable
4、Built-in BT-Nano Moudle ( LInk )
Explorer LR quad is the masterpiece of the collaboration between Flywoo and #micro long range original creator Dave_C .  #Micro long range is a brand new field, and we will explore more fun in this field with Dave_C in the future.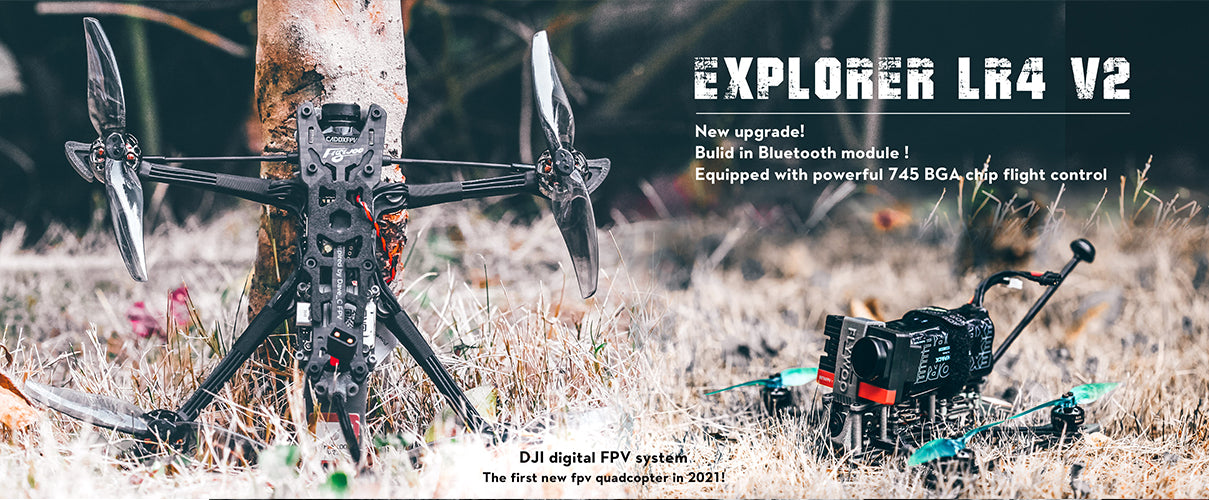 Message from Dave_C FPV:

For me personally, Long Range cruising through epic landscapes is the best thing about FPV! But unfortunately, it was always kind of difficult to practice legally and without bothering people with all the noise a massive 6 or 7" long range quad produces.
So the basic idea behind the original Project #MicroLongRange was born: Scale down a 7" long range quad until it is below 250g take off weight. With the support of an awesome community on Facebook and Instagram as well as a massive development effort by Flywoo, this concept has seen a lot of improvements that are now all implemented in the Explorer LR!
This tiny quad is equipped with GPS, Crossfire and an independent model finder to give you the necessary confidence to push it to the maximum range of digital and analogue video transmission. The powertrain with it's GOKU 16x16 stack and the all new 2700kV 1404 motors spinning 4" props is optimized for maximum efficiency and low weight: Flight times of way over ten minutes on a regular 850mah 4S LiPo battery are easily achievable! Cruising speeds of 40-50 kph (25-30mph) are astonishingly high for such a small quad and have allowed me to do 10km (6 mile) round trips easily. And the best thing about it: It's incredibly quiet! You will barely be able to hear it flying by as soon as you are a few dozen meters away. "
 ----- Dave_C FPV 


How to Work Flywoo Finder v1.0?
Flywoo Finder v1.0 can power itself to beep and LED light to flash even the quad battery has been ejected.
Fingder v1.0 can work for 4-5 hours.
Press the button for 3 seconds to close it
How to Work Flywoo Goku GPS Mini V1.0  Rescue Function? 
Before disarm, GPS must search for more than 5 satellites to lock the home position.
After disarming, observe the OSD data during the flight, and the rescue function can work normally only if the distance exceeds 100 m. Otherwise, the quad will crash.
If the remote control suddenly loses signal, the GPS rescue function will work automatically and return to the home position. (Set the AUX of GPS rescue mode in betaflight Failsafe, the default is AUX3 2000)
Package : 

1* Prebuilt and tested Explorer LR Drone without vista HD
1* Side carbon plate 1 set
1* Spare srew
2*Gemfan 4024 4pcs 
Video
This BNF 4" Long Range Drone Flies for 18 minutes!
Flywoo Explorer LR 4" reminded me how fun FPV is supposed to be
THE FUTURE OF LONG RANGE FPV - FLYWOO Explorer LR
This is the BEST FPV Long Range Drone Under 250 grams - Explorer LR
37minute FPV flight - Flywoo Explorer LR
KING of Under 250g Long Range KWADs // Flywoo Explorer LR
50km con un MICRO DRONE per FPV è POSSIBILE?
Reviews
Explorer
Great lr quad I have 2 of these love them
Broken out of the box
Shipping was very quick and without hustling with customs. On my F7 unit, the uart for the dji system was broken and I had to solder my vista to another uart. Finding the errer cost me several hours, ma build the quad my self next time.
Great drone with 20+ minutes of flying ability
Great drone with 20+ minutes of flying ability
Best drone with DJI
Love flying this model with dji Goggles .i fly mine on Lion 2600 battery, getting around 18 minutes flying time with out pushing battery to far.did the hack on mine & fly on 200mw.
Normal
the drone is good, but I didn't like it, sorry)
Payment & Security
Your payment information is processed securely. We do not store credit card details nor have access to your credit card information.