Roll over image to zoom in
Description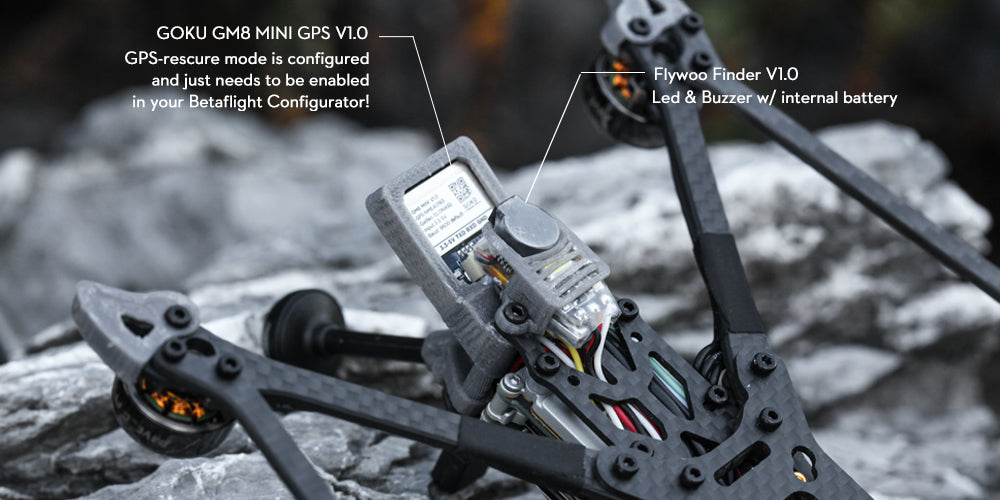 FLYWOO Finder V1.0 BB Ring 100dB Buzzer Alarm with LED Light Support BF CF Flight Control Parts for RC Micro Drone Quad

The buzzer has two modes of operation:
1. It is compatible with the functions of the traditional active buzzer and synchronized with the flight control.
2. When the flight control is normally connected, if the main battery in the flight is powered off, it can still automatically emit 100 dB of drip sound after 30 seconds of power failure, and the LED will emit white light.

To turn off the buzzer: Press and hold the release button for more than 2 seconds, the Finder V1.0 turns off the sound.

The Finder is compatible with all BF and CF flight controls. Just connect to the buzzer interface of the flight controller and it will work. When the flight control wiring is correct, the multi-rotor aircraft is powered on, and the flight control power supply will be automatically charged for the Finder (the red LED will light to indicate charging is in progress, the red light is off to indicate charging saturation; the red light flashing indicates flight control) Electricity, enter 30 seconds waiting time).

Size: 21*11*9.5MM
Weight: 2.7 grams

Package include:
1 X Finder V1.0 (10cm cable)
Excellent
Perfect for finding loud abs led is bright easy install
Flywoo finder v1
This is a really good buzzer and finder. The buzzer is noisy and the finder works good. It's already helped me find my drone once, so it already paid for itself.
Everything is OK. Thank you.
Buzzer stuck on as well
I encountered the exact same issue Gary VanAusdle reported on 6/20/21. Was the stock beeper on an Explorer LR V2, only a couple weeks old.
Came here to purchase a replacement and noticed others have same issues.
I love the drone; seems to be otherwise high quality. Disappointing beeper h/w.
Buzzer stuck on
I had just finished a flight, disconected the main battery, then held the button to disable then it started buzzing constantly, the led light came on steady. I had to remove it from the drone and cut the wire to the small battery to disable it. I see someone else had the same issue. I have the ev explorer with the buzzer as well. Hope it doesn't happen on it.
Payment & Security
Your payment information is processed securely. We do not store credit card details nor have access to your credit card information.