Roll over image to zoom in
Description
DESCRIPTION
Custom tube Durable 5.8G antenna for Digital FPV.
Custom tube. Strong hardness, not easy to bend. Tube Can effectively resist wind force in flight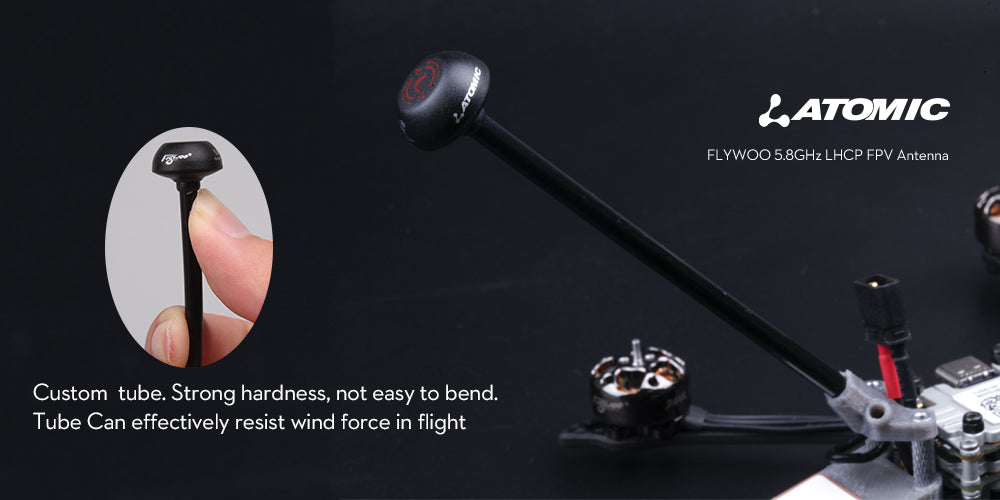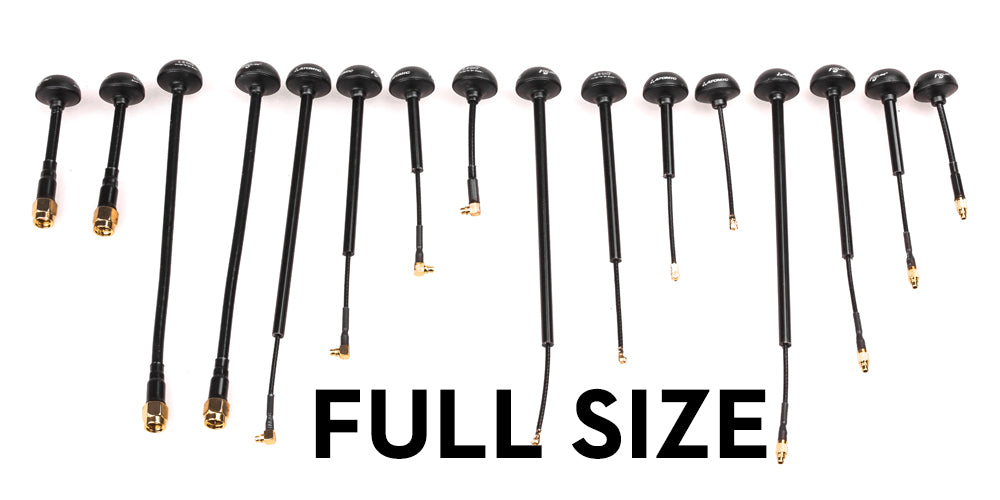 Use LHCP (Left Hand Polarization) for DJI Digital FPV! Default antennas are LHCP and Goggle Antennas are LHCP, both sides need to match! 

SPECIFICATION
Model: 5.8GHz LHCP FPV Antenna 
Frequency range: 5500-6000MHz
Gain: 3dbi
Axial Ratio: 0.7
Cable:RG1.37 
Length: 30mm/60mm/100mm
Interface: MMCX straight / 90°, UFL IPX
Polarization: LHCP
SWR: ≤1.5 (ON 5.8GHz)

PACKAGE INCLUDED
1 x 5.8GHz LHCP FPV Antenna
Wrong product
@ Flywoo replied: you put a mmxc 90 to spare parts of the flywoo explorer digitial, which you are selling with caddx vista, and a client makes a mistake by just ordering the antenna... okay I get it, tell me how i can send it back to you so you can send me the right one, thanks
wrong product delivered
@ Flywoo replied... here is my answer:
100% did not see anything about MMCX90° why would you have it to the flywoo explorer when you're selling it with the caddx vista and not with a dji air unit? This antenna has NOTHING to do with caddx Vista so what is it doing to the spare parts of the flywoo explorer which you are selling with caddx vista as digital fpv... I hope you understand my point
Wrong product delivered
Look this is very annoying... I ordered from the website for the spare parts for Flywoo Explorer digital (Which is obviously Caddx Vista) and they send me an antenna that does not fit to my Caddx Vista
How can you really not tell from what a client ordered from?!
I am even writing this review from the page and the above order... this is really annoying because so much time wasted on posting the package, please send me the right on for my caddx vista and thanks for the gift.
Hello. Please check your order. What you ordered is MMCX 90° / Length: 30mm \ Tube 0mm. This is for DJI Air unit
Work well if you don't crash
These are really good long range antennas, have been flying 2 of them for 3 km and more. One of them hit the grass when I freed my quad from a tree from around 2 meters height, so not really a bad crash. The antenna in the top knob broke internally, one of the two internal discs broke off it's solder point. Good antennas, but kind of delicate.
Loving the tarsier edition
Quad arrived and assembled the antenna. I chose to add an additional LHCP antenna as I normally fly LHCP to reduce clashing with other pilots. Inspected setup in betaflight. Tune all looked custom and BF4.2.x No RPM filtering. Initial test flight was great, very smooth, easy and predictable to pilot in acro mode. Could not get GPS fix though. I have since rerouted the tarsier camera ribbon under the stack and added some Cat5E external grade shielding to the gps wire (makes it less flexible), I was then able to get a GPS fix with included gps module but it took a long time. I had a spare Bantian 220 module which I now get a 8 sat lock in under 1 minute. I have printed a suitable batery mount holder for it. really enjoy how small and quiet this quad is, its superb for cruising. Have made a 3 cell and 4 cell 18650 packs and get 30mins+ on the 3 cell, and less on the 4 cell but a little more juicy in flight performance. With lighter weight 500mah to 850mah packs the freestlye performance is lacking, but is capable. I use it for mild freestyle cruising and thoroughly enjoy flying this quad. Since mounted a Tramp micro to replace the panda vtx. The panda vtx was fine on my build and flew for several hours and furthest I dared was 1.5Km Video and tbs signal still great. Put the tramp micro on as looking for a trusted slightly higher power vtx- which slots right into the same wire config as was provided for the panda (5v, gnd, video out, telem-smart audio).
Payment & Security
Your payment information is processed securely. We do not store credit card details nor have access to your credit card information.