Roll over image to zoom in
Description
FLYWOO new top GOKU series AIO are finally here! GOKU HDF745 40A FC is currently the highest level of all-in-one FC, which can meet all your FPV needs.


Use powerful F745 BGA chip and BLHELI_32 ESC firmware, integrate 5V/9V dual BEC, barometer, black box, WS2812LED, support 7 complete hardware serial ports, I2C and other functions are all open.
This is currently the most integrated and powerful FC AIO board on the market. It brings pilots a more stable and smoother flight.! Perfect for ultralight quad! It will be the most powerful FC AIO board in 2021.
HD745EVO BLHELI32 40A
Specification: 
MCU: STM32F745 32-bit processor,216MHz, 512Kbytes Flash
IMU: MPU6000 (SPI)
Barometer: BMP280
Onboard LED:WS2812*4
USB VCP Driver (all UARTs usable simultaneously; USB does not take up a UART)
7 hardware UARTS (UART1,2,3,4,5,6,7)
Supports serial receivers (SBUS, iBus, Spektrum, Crossfire) only.
PPM and PWM receivers are not supported.
Onbord 8Mbytes for Blackbox logging
9V Power Out: 1.5A max
5V Power Out: 2.0A max
3.3V Power Out: 0.5A max
Dimensions: 41x32mm
Mounting Holes: Standard 20mm square to center of holes 
Weight: 8.5g

Built-in 40A BL_32 4in1 ESC
Support BLheli / BLHELI_32
Support PWM, Oneshot125, Oneshot42, Multishot, Dshot150, Dshot300, Dshot600,Dshot1200
Input Voltage: 2-6S Lipo
Continuous Current: 40A
Firmware: BLHELI_32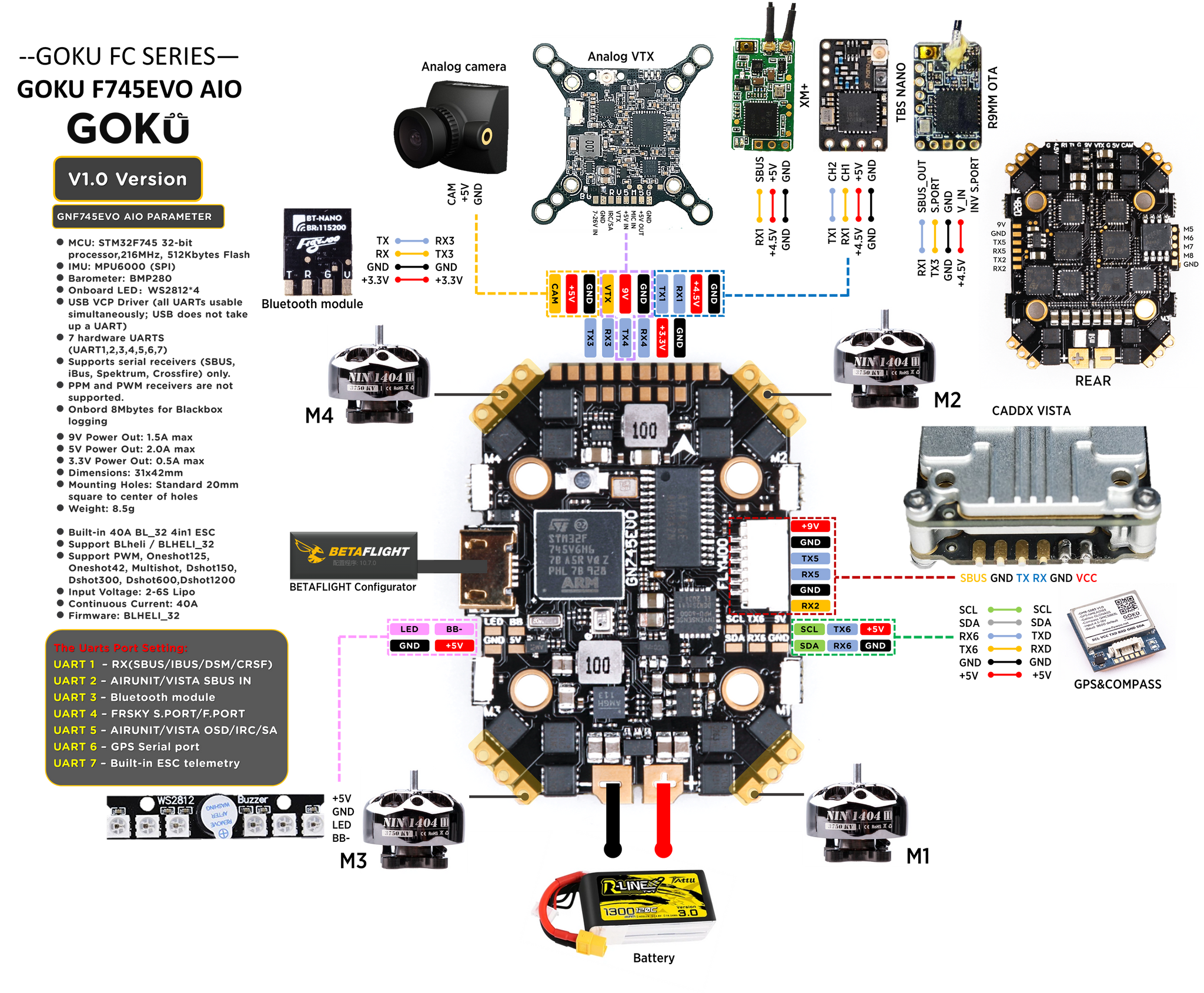 Nice
great aio, there is everything you need👍
GOKUHD 745 AIO - BEST AIO EVER!
This is one of the best flight controllers I have ever owned and I have had them all! I have this in a gecko 4" and a Tmotor 5" running 6s on 2675kv apex motors with no throttle limit and it takes it like a champ and the motors come in barely warm! Every FC from Flywoo has been ABSOLUTELY top notch I have around 10 of them in service right now! Frames, FCs, ESCs , motors and leds are all top of the line !
Perfect board for perfect 4inch freestyle
I liked it very much. The board is luxuriously made. There are no complaints about the work. Used freestyle 4 "with 1606 motors. The only drawback is that you need to clean the contacts well before soldering and the incredibly inconvenient location of the SCL SDA.
which one is it?
there are 2 different fc,s in the pictures about which one is it the one with separate ground and 5v pads or the other one?
Excellent !
Lightweight and compact. My custom built cinewhoop flies smoothly with this board.
Payment & Security
Your payment information is processed securely. We do not store credit card details nor have access to your credit card information.