Roll over image to zoom in
Description
Pls note that Hex FC cannot be used with Quad ESC ! 

GOKU HEX F745 16X16 NANO STACK . Use powerful F745 BGA chip,barometer, black box, WS2812LED,
support 7 complete hardware serial ports, I2C and other functions are all open ! Enough to meet all FPV needs.
 SIZE: 22*23mm Weight: 2.3g
  Hole: 16*16-3mm
 MCU: STM32F745
 UARTS: 1/2/3/4/5/6/7

I2C: SCL/SDA
 GYRO: MPU6000
 BARO: BMP280 BEC: 5V 2A
 LED:4*WS2812 FLASH: 8M
 Input Voltage: 2-4S
 Firmware: FLYWOOF745NANO

Recommend Combo : GOKU F745 HEX 13A STACK 16X16( FOR HEXPLORER HD HEX-COPTER BNF  )
Recommend Combo : GOKU F4 HEX 13A STACK  16X16( FOR HEXPLORER ANALOG HEX-COPTER BNF  )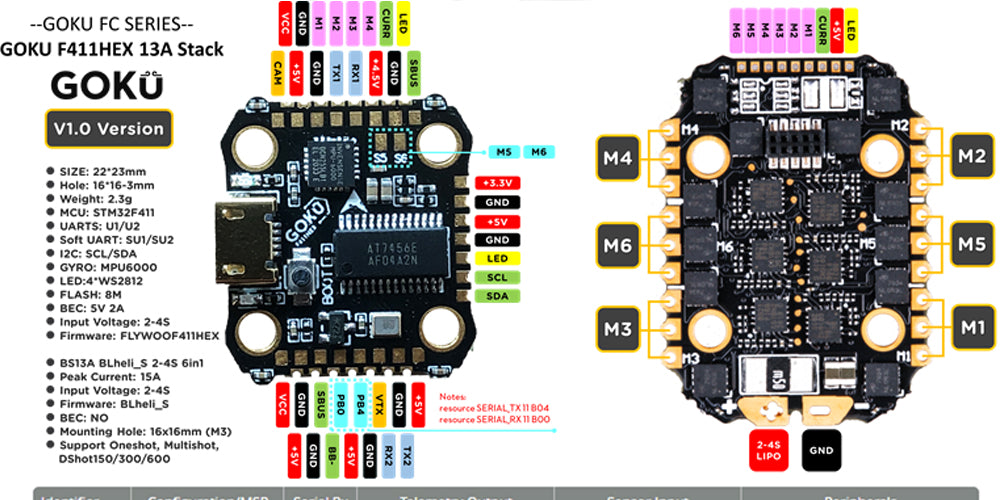 Seems like okay hardware
Currently the only firmware it runs is Betaflight. Which is fine for acro/freestyle but not usable for long range. Betaflight doesn't even have a functional return-to-home. Inavflight or Arducopter would be much better, but so far neither firmware supports goku f745hex. I have high hopes that they'll add support for inavflight soon as there is support for the quad version of this FC.
If you just want to do acro stuff, hex gives you better flight characteristics than quad for an over 250g build. No need to waste weight on a GPS reciever with betaflight, though.
Until a more suitable firmware is released, this build is very limited and I can't reasonably give it 5 stars.
Same for the quad
Pls make the same flight controller for the quadrocopters.. 7 uarts it is incredible in this form factor (16*16)
Payment & Security
Your payment information is processed securely. We do not store credit card details nor have access to your credit card information.