Roll over image to zoom in
Description
FLYWOO new top GOKU series AIO are finally here! GOKU HDF4 40A FC is an economical and durable all-in-one AIO , which can meet most your FPV needs.
Use powerful F411 chip and BLHELI_S ESC firmware, integrate DUAL BEC , black box, support 2 complete hardware serial ports, and 1 Soft serial port. I2C and other functions are all open.
This is currently the most integrated and powerful F411 AIO board on the market. It brings pilots a more stable and smoother flight.! Perfect for 3''-5'' ultralight quad! It will be the most powerful F411 AIO board in 2021.
GN411EVO HD BLHELI_S 40A
Specification:
MCU: STM32F411
IMU: MPU6000 (SPI)
USB VCP Driver (all UARTs usable simultaneously; USB does not take up a UART)
2 hardware UARTS (UART1,2)
1 Software serial port
Supports serial receivers (SBUS, iBus, Spektrum, Crossfire) only.
PPM and PWM receivers are not supported.
Onbord 8Mbytes for Blackbox logging
9V Power Out: 1.5A max
5V Power Out: 2.0A max
3.3V Power Out: 0.5A max
Dimensions: 41x32mm
Mounting Holes: Standard 20mm square to center of holes 
Weight: 8.5g

Built-in 20A/40A BL_S 4in1 ESC
Support BLheli / BLHELI_S
Support PWM, Oneshot125, Oneshot42, Multishot, Dshot150, Dshot300, Dshot600
Input Voltage: 2-6S Lipo
Continuous Current: 40A
Firmware: BLHELI_S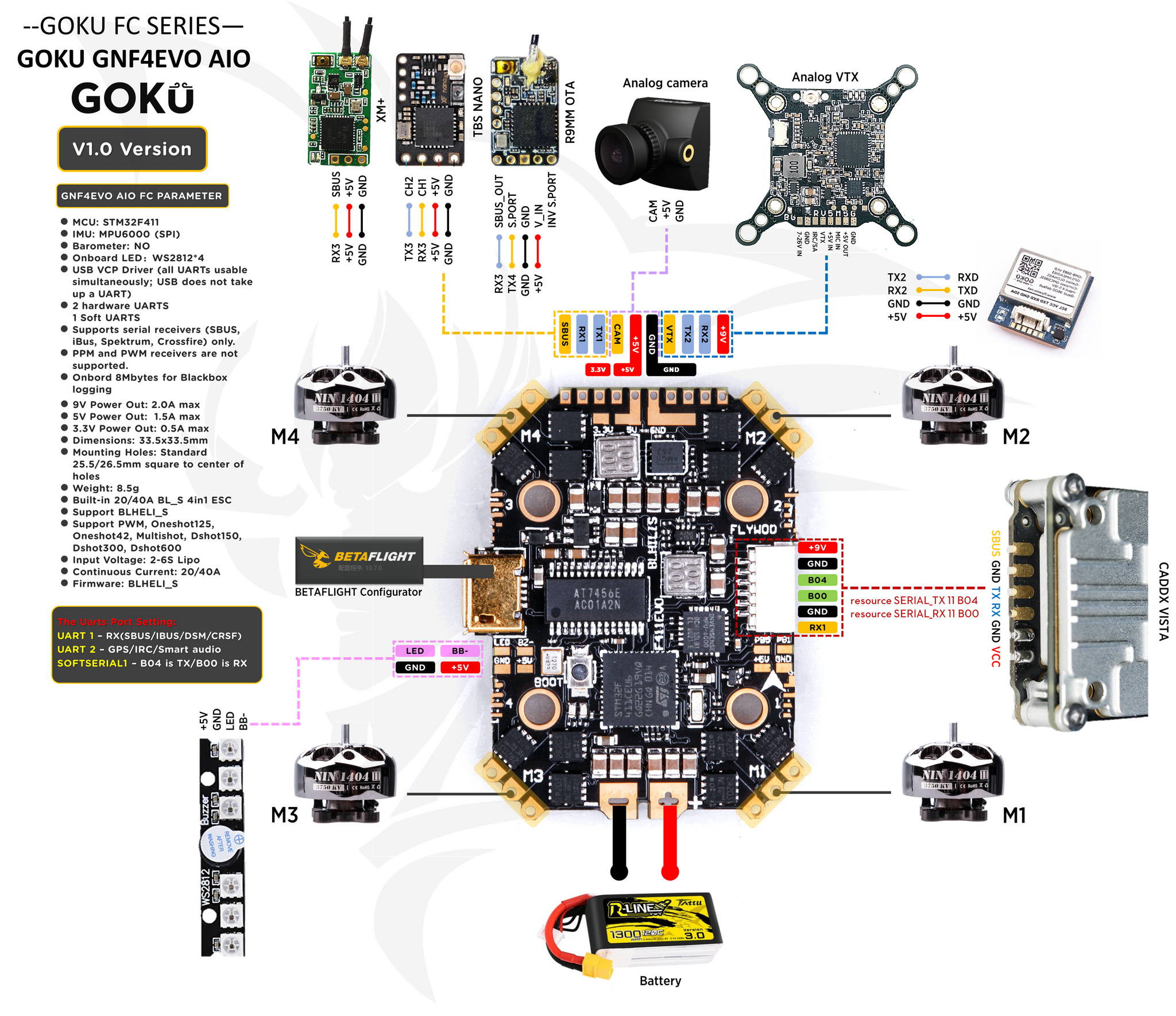 On the fence
That cli dump file is is for the F7. took me hours to figure out the correct one, softserial is a pain in the butt, please change the wire harness to actual uarts. I like the design don't know how it performs yet. I've tried 3 different air units, and had issues, just when i thought i figured it out, i got a solid red light and i thought DJI air unit was bricked. tried two others I have,, same thing. After some research i found out it was a bad 9v pin on the connector. Hard wired to board and is working for now. The connector is also backward order of the DJI unit, which means the dozens of pre made harnesses i have for air units and "DJI ready" FCs, were useless, so I had to make one.
This AIO board and the RTF Hex Nano are the first ever products I've purchased, and the Hex Nano caught fire ( it was a true RTF, vista model, didn't touch it with a soldering iron) the first time i plugged it in. The customer service at Race Day Quads was top notch, so we'll see if the replacement works or if it's strike 3.
Payment & Security
Your payment information is processed securely. We do not store credit card details nor have access to your credit card information.